In conjunction with his appearance on the 6/21/16 program, Ian Punnett shares Chapter One from his new book A Black Night for the Bluegrass Belle. You can also listen to Ian performing audio excerpts from his book. Of the many famous ghost sightings of The Lady in Blue at the Seelbach Hotel in Louisville, most seem to happen in summer. On a hot July Sunday in 1987, according to The Seelbach Hotel by Larry Johnson, chef James Scott saw The Lady in Blue float through closed elevator doors on the hotel's mezzanine level while he was making brunch omelets in front of the AAA 5 Diamond-rated Oakroom Restaurant. A few minutes later, an 8th floor maid witnessed a similar spectral performance. It was also summertime in 1992 when Seelbach housekeeper Missi Nussbaum caught a glimpse of a ghostly head in a hotel room mirror—twice. In summer of 2015, a couple taking wedding photos in the Seelbach's famed Rathskeller banquet room appeared to be photobombed by The Lady in Blue. If there is a logic to the supernatural, then that all makes a kind of sense. It was July 15, 1936 when a 24-year-old woman fell to her death down the Seelbach's service elevator—wearing a blue dress. Her name was Patricia Wilson, and decorum aside, it was likely not a blue dress she was wearing the night of her death, more like a silk slip and sheer stockings. Mrs. Wilson and her husband had moved to Louisville from Oklahoma a few years before but had separated shortly thereafter. Her estranged husband had been killed in a freak auto accident a few weeks prior to Mrs. Wilson's death. During their separation, Mrs. Wilson was living independently, fully supporting herself in a house on 847 South First Street. The assistant manager of the Seelbach Hotel that night identified Mrs. Wilson and told reporters and police, "She often 'visited' here." On the evening of July 14, Mrs. Wilson had been attending "a drinking party" in a Seelbach Hotel room. The party had been going on up to the time she went down the elevator shaft. According to the press, the coroner did not rush to judgment and a complete investigation took place. Even if the detectives had any suspicions, they were busy enough already protecting "respectable" citizens in Louisville to pay much attention to a well-known "party girl." After an appropriate deliberation, the coroner's jury determined that Mrs. Wilson had been killed "through her own carelessness." After that verdict, the Seelbach was exonerated of any blame. Interest in the tragic death of a beautiful, shapely, dark-haired young woman faded like a ghost in the mist. The day after her fall, "the party girl" was buried in an unmarked pauper's grave at Evergreen Cemetery.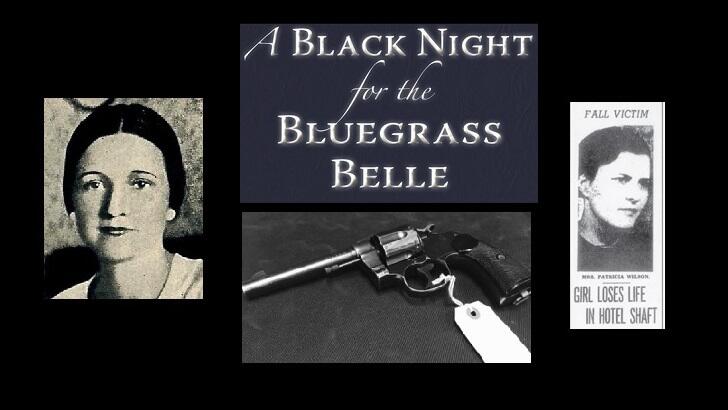 In 1936, at best, "party girl" was a description for a woman that was at least dismissive if not insulting. Even today, "party girl" can be code for an attractive woman who uses her sex appeal to keep the good times rolling in all aspects of her life: rent, food, clothing, drinks, etc. In a certain context, sometimes "party girl" is even a euphemism for "prostitute" (think Holly Golightly in Breakfast at Tiffany's). In a cruel way, "party girl" is a term reserved for a woman of lesser ambition, some level of "disposability," something like an empty bottle of champagne that goes down the chute at the end of a night of revelry. The party is over. It's time to tidy up and return to respectability. According to Louisville police, Mrs. Wilson lived to party; according to the coroner, she partied herself to death. And perhaps it was that simple. It is possible that Mrs. Wilson was so drunk she foolishly forced herself through "a seeming defect in the service (elevator) door on the eighth floor." Upon police inspection, the metal service elevator collapsible gate—there was no solid door to the elevator back then—was found to be partially open, but anybody familiar with those old elevator gates knows that getting through a closed one would have taken some doing even for a sober person. As it is, the Seelbach elevator service doors are about as wide as a broad-shouldered person pushing a dinner cart. Hard to imagine how death could have occurred through "carelessness." In the Southern way—and in deference to the hotel's reputation—listing the cause of death as "accidental" instead of murder or suicide was the more discreet option. Despite the decision to list "cause of death" (COD) as accidental, the indelicate whispers would not go away. Was Mrs. Wilson suicidally despondent over the death of her unreconciled husband? Was she sleepwalking? Could it have been murder? Would a petite, 24-year-old, inebriated "party girl" have the strength to pry an opening? It would have been much easier for a 240 lb., 6' 2" military man. Seventy years after Mrs. Wilson's death, Margaret Bateman, an employee of the Department of Tourism for the Commonwealth of Kentucky, gave her father a copy of the first edition of Johnson's book about the Seelbach. It jogged a memory. Bateman's dad confessed to her what he knew about The Lady in Blue and Bateman's letter relating her father's confession was included in Johnson's second edition of his book: In 1935, the troop was at Fort Knox for its two-week active duty training and he and his three friends went to Louisville for some "fun." (He told me he probably should not be telling this story, but he was single at the time.) They asked where the excitement was and were directed to Fifth Street. They went to a "house" and the madam brought them four girls. One of them was a knock-out and they called her "Lucy." The next year, they were back at Fort Knox and went back to the same house. They asked about Lucy and were told she had died in an elevator accident at the Seelbach. So now, we know how the "Lady in Blue" was making her living during the time she and her husband were separated. Her death may not have been an accident. As reported in True Detective magazine as late as 1955, there continued to be testimony that counter-indicated any facile conclusion that Mrs. Wilson's death resulted from her drunken negligence or depression. Similar to the occasional reappearance of The Lady in Blue, the alternative narratives of the predawn hours of July 15, 1936 haunt the official inquiry. This is one of those stories. On the night Mrs. Wilson died, the Seelbach's ornate, French Renaissance-style, Italian marble lobby had been empty and quiet. Although there had been some loud parties earlier, the hotel patrons appeared down for the night when the switchboard phones rang cacophonously. Looking at the rush of blinking lights, the overnight desk clerk, Charlie Evans, bent over the shoulder of the phone operator and exclaimed, "Eighth floor, seventh floor, second floor!" "Yes, ma'am I'll report it. Yes, sir, we'll see to it right away. Yes, we know about it. Okay, miss, it's being looked into." The night time phone operator was not used to a sudden rush of calls like this. "What's up?" the night clerk urged. The operator broke off for a minute. "On the eighth floor—some kind of commotion. And on the second, 206 and 210 heard a terrible crash." "Did they tell you what room it seemed to come from?" "No room—it was out in the corridor. A man's voice and woman's voice. Guest in 817 says she distinctly heard a woman pleading, heard her scream." As the night manager of the hotel, Evans usually chose guest discretion over police involvement if possible, so Evans called to the bellman to come with him to investigate in person. "First we better see what crashed." It didn't take long for the pair to reconsider the need for police. Rushing up the main staircase to the second floor, the overnight clerk and the phone operator encountered the guest from room 206, "a startled looking little man in a bathrobe," as he was called in the true crime magazines. He had heard the crash for sure, and he thought he had heard a moan. Evans and the bellman went first to the passenger elevator shaft and then around to the service elevator shaft. Drops of blood were seeping through the exit hatch in the service elevator ceiling. After the police and ambulance drivers arrived, Mrs. Wilson was found to have a faint pulse, barely breathing. The men carefully removed her broken body from the roof of the service elevator using a hotel blanket as a makeshift stretcher. Sadly, Patricia Wilson never regained consciousness, she never made a statement or made it to the operating table before she died. Perhaps only The Lady in Blue's body ever truly left the Seelbach Hotel at all. Concerned and curious hotel guests gathered in the lobby to watch the police and ambulance drivers desperately try to save the young woman's life. One patron stood out to the small, "startled looking" man from room 206, still in his bathrobe. He spotted and worked his way over to a tall, barrel-chested gentleman, immaculately clothed. "General Denhardt? I dare say you don't remember me, sir, but—" the man from room 206 began deferentially. "No, and you don't remember me either," the big man shot back at the startled looking man. Imperiously, he said, "My name is not General anything. As a stranger to Louisville, I'd had this dump recommended as a quiet place to spend the night." The man from 206 gulped out an apology, but it was ignored, and the gentleman with the ramrod military bearing stalked from the lobby. In the weeks that followed, Louisville police interviewed every witness to the event that night including the man from room 206. Despite his certainty that he had recognized Brigadier General Henry H. Denhardt, the current adjutant general of the Kentucky National Guard, the former Lt. Governor of Kentucky, the former judge, the thought-to-be wealthy lawyer, publisher and politically connected local businessman, however, the startled looking man stayed quiet about his lobby encounter when questioned by the Louisville police. A few months later, when another beautiful widow died suspiciously in the company of Denhardt, the man from 206 felt he had to say something and contacted the authorities. The second widow's name was Verna Garr Taylor and she lived in the quiet, nearby town of La Grange, Kentucky, about 45 minutes northeast of Louisville. Verna was 40-years-old, an independent, successful, shapely, dark-haired mother of two who Time magazine reported was "the prettiest woman in two counties." The night of Verna's suspicious suicide, however, Denhardt's whereabouts were well known. He was mere yards from where Verna lay, shot through the heart with Denhardt's gun, on State Road 22, a very cold, lonely place to die.

For additional photos and insights from Ian, view this page.