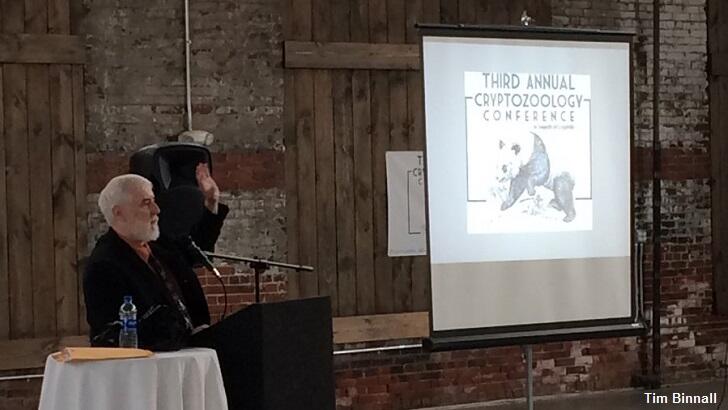 Loren Coleman kicks off the 2018 International Cryptozoology Conference.
By Tim Binnall
The cryptozoologically curious came together this past Labor Day weekend on the shore of Maine's Casco Bay for a unique showcase of Bigfoot researchers, lake monster investigators, and collectors of creepy creature cases. Following a critically acclaimed 2017 installment, this year's International Cryptozoology Conference in the city of Portland upped the ante in a big way.
The 2018 proceedings, held over the course of Labor Day weekend, were expanded from one day to two and the location moved to an aesthetically-amazing former railroad machine shop which has been repurposed into a concert and event venue. Organized by the International Cryptozoology Museum (ICM), which was conveniently located across the parking lot from the conference site in Portland's burgeoning Thompson's Point development, the event doubled its attendance from the previous year, drawing around 250 people.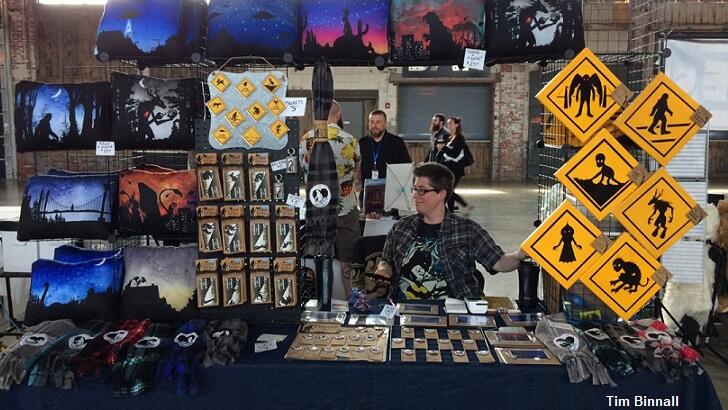 An assortment of cryptozoological-themed items for sale from Maine-based artists Niko-jin Designs
The considerable crowd, distinctive setting, and musical performances by the band Missy Mooney & The Tomb of Nick Cage, who played during the breaks between presentations, made for a rather festive atmosphere at the event. This seemed to be case, in particular, on Saturday afternoon when parts of the conference center that were open to the public swelled with people preparing to attend a concert taking place nearby later that night.
Fans of the popular local-band-made-good, The Ghost of Paul Revere, seemed surprised to learn that their ticket to the show also included an unexpected side order of Sasquatch and other assorted oddities when they saddled up to a cash bar opened by the development for early-arriving concertgoers. What resulted was a few short hours which saw a fascinating mix of intrigued interlopers, who heretofore likely hadn't given much thought to Bigfoot and its brethren, mingling with a bevy of cryptozoology enthusiasts and experts that were more than happy to answer all of their questions.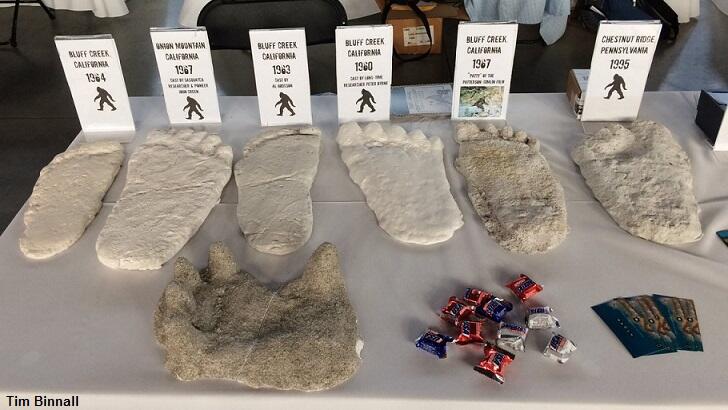 A collection of Bigfoot casts from iconic cases and researchers on display at the table of filmmaker Aleksandar Petakov
The dynamic was wildly different from similar paranormal-themed events which often find attendees and presenters cloistered from the outside world in a proverbial echo chamber. On the contrary, this remarkable moment allowed for an exchange of ideas between groups of people who were otherwise unlikely to encounter each other in everyday life and, no doubt, humanized the field of cryptozoology for those who may have previously dismissed it as a silly pursuit.
To that end, the conference itself showcased a refreshing global perspective on the field of cryptozoology. British cryptozoologist Andy McGrath was on hand to discuss the Beasts of Britain and Hayley Eldridge discussed her research into an infamous man-eating wolf which terrorized parts of France in the 1760's.
Meanwhile, the organization's aim to examine the whole field was apparent in the form of Aleksandar Petakov's presentation on Lake Champlain's legendary lake creature Champy and a showcase of various 'Vermonster' stories by artist Joseph Citro and artist Stephen Bissette. Rounding out the line-up of presenters were Dawn Prince-Hughes, Todd Disotell, Colin Schneider, Katy Elizabeth, Michelle Souliere, and Jeff Meldrum.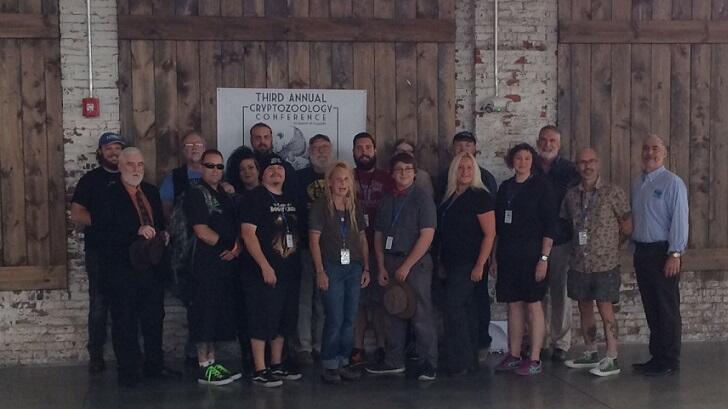 A group photo of the speakers and entertainers who participated in the event
And, of course, presiding over the festivities was legendary cryptozoologist and founder of the ICM, Loren Coleman, who's enthusiasm for the field to which he has dedicated decades of his life was infectious. His welcoming nature and good humor made those in attendance, whether they were newcomers, longtime students of the subject, or simply curious observers, feel like they had an important role to play in the cryptozoological community.
That sense of fellowship was perfectly conveyed by way of a situation, so to speak, which unfolded after it was initially announced that there would be no conference in 2019. The reason given was that the ICM is organizing an extensive expedition to Loch Ness next July and that this project will require a considerable amount of time and effort from the group.
However, by the time the conference had ended on Sunday afternoon, Coleman and company had reversed course, citing overwhelming feedback from those in attendance, and declared that there will be another conference in Portland next year because, quite simply, the people had demanded it.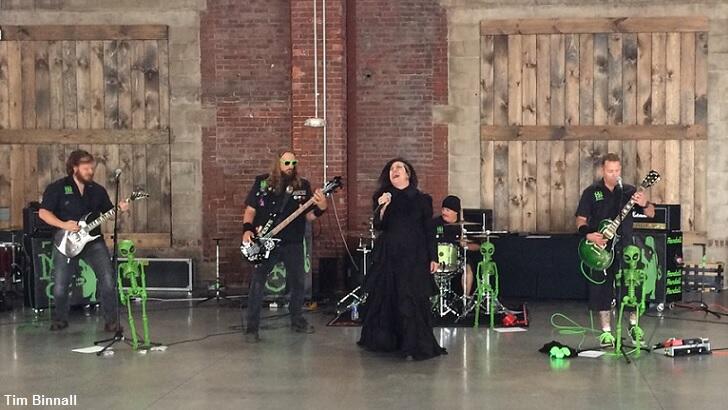 Missy Mooney & The Tomb of Nick Cage