In tandem with his 3/20/14 appearance, Robert Morningstar shares a set of images (click to enlarge) and text related to his presentation.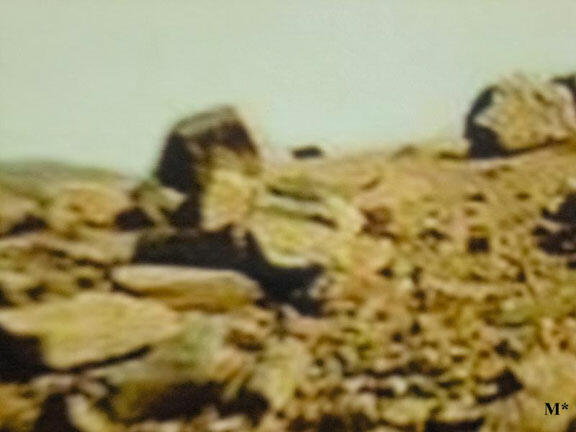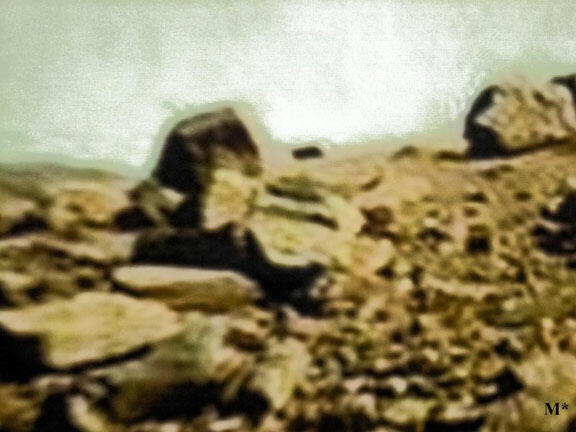 1 & 2) These photos are close-ups that I shot of panoramic views of The Dingo Gap that were taken by Curiosity Rover. While exploring the area, using the Curiosity Rover's panoramic 360 degree view of the gap, I have discovered graphic evidence supporting the existence of Life on Mars, presently in a moss or lichen like form, and artifacts from the ancient Martian past revealing evidence stone masonry and remains of architectural infrastructures.

The first photos are 2 views of the same anomalous of toppled stone block (silhouetted against the Martian sky at the top of the ridge) and others around it. The stone block has obviously been carved at precise right angles both outside and hollowed out with squared corners inside. Lying flatly alongside the hollowed out rectilinear block is a stone that appears to have been carved/engraved, and recessed to produce a triangular platform, into which another triangular form could at one time have been inset. Click on images to enlarge.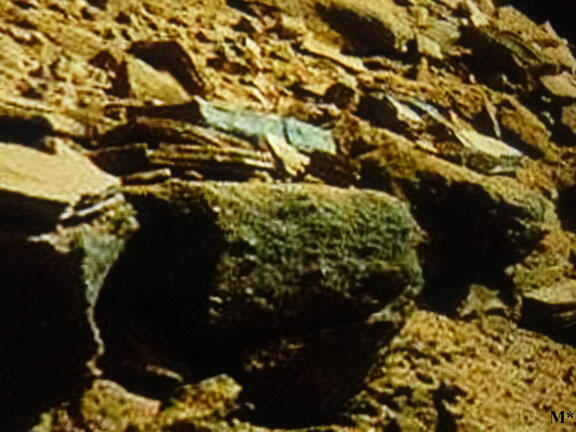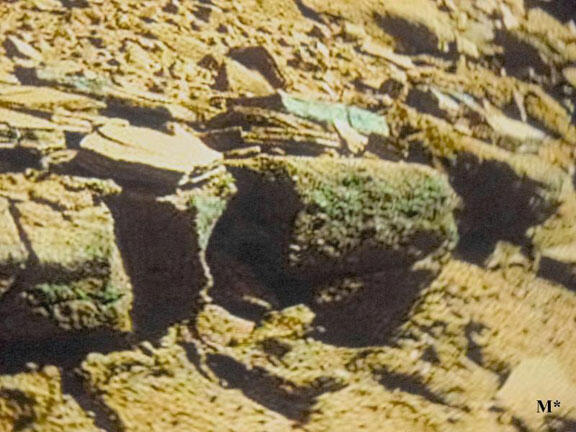 3 & 4) This columnar stone formation appears covered and overgrown with Martian moss and lichen, a distinct sign of plant life on Mars, note the distinct green color typical of moss and lichen on Earth. The small version has been enhanced using gamma to increase the lighting, which washes out much of the "green carpet effect" that the ordinary light light reveals.

Note the strange yellow object that is lying against the stratified rock above the Green Column. When I saw this item, I quipped: "Wow! ... Did some Martian forget his Yellow Glove when he went home from work?" Click on images to enlarge.





5) This photo shows a Martin outcrop on a cliff showing what I see as the remains of architectural infrastructure in a certain area of the Dingo Gap, remnants of walls, ramps and openings into substructure the top of which has collapsed. At bottom center, I have enlarged and inset one of several "Martian Shell Stones" (geometrically or symmetrically carved and hollowed-out stones) that I have discovered to be scattered throughout The Dingo Gaps. Click on image to enlarge.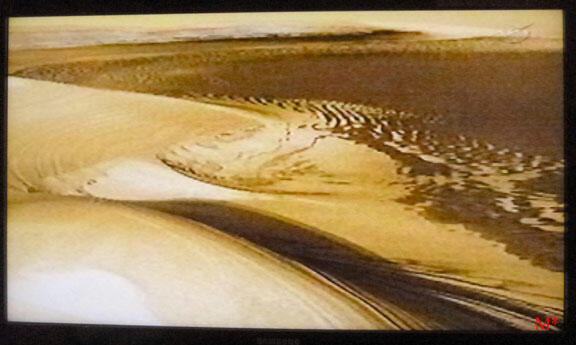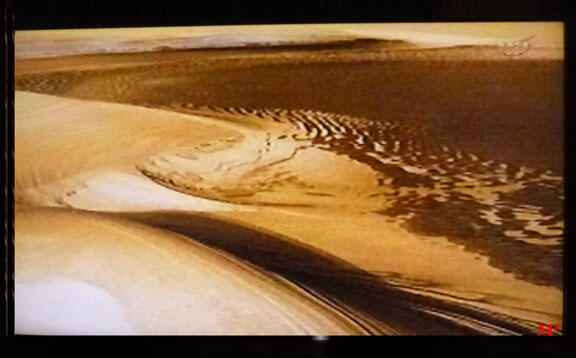 6 & 7) These last photos depict what I call "Morningstar Beach...on Mars." I've been told many times that there is a "Morningstar Beach" on St. Thomas in the Virgin Islands... :) Now we have one on Mars too. The photos in this batch are 2 views of waves cresting and breaking on the shores of "Morningstar Beach" on Mars!

For these photos I shot single frames from a video that I captured on the NASA Channel in summer of 2012 so people can see the changes in the waves coming ashore on a Martian beach. Note that the beach is to be seen across the top of the frames, not in the foreground. The foreground shows shallow tidal pools left behind by an ebbing (i.e. outgoing) Martian tide. Therefore, we know from this NASA video that there is more than enough water on Mars today to create waves breaking on a beach, and tidal pools on wet sand, proving that there is not only enough water for a large lake or pond on Mars, but enough water for tidal action to exist on Mars even today. Click on images to enlarge.