George Noory
will be making a number of public appearances in 2018. He is also currently taping live episodes of his GAIA TV show,
Beyond Belief with George Noory
.
JUNE 2018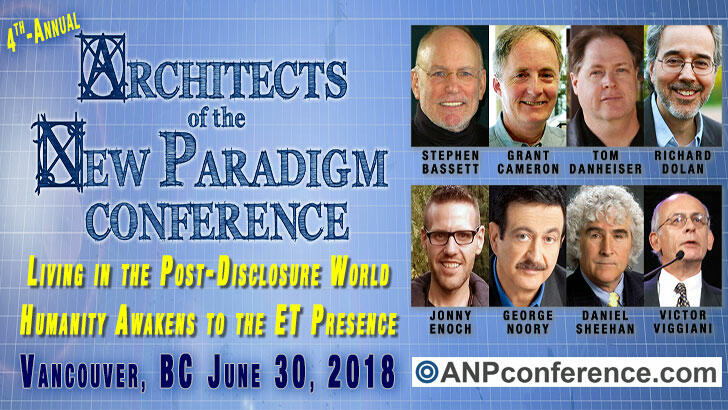 Saturday, June 30, 2018
Architects of the New Paradigm Conference- Summer Session
Living in the Post Disclosure World- Humanity Awakens to the ET Presence
Sheraton Vancouver Guildford Hotel, Surrey, BC, 8am-9pm
Special guests George Noory and Tom Danheiser of Coast to Coast AM radio join a renowned panel of top experts for this groundbreaking full-day conference featuring Stephen Bassett, Grant Cameron, Richard Dolan, Jonny Enoch, Daniel Sheehan and Victor Viggiani. Discover the latest developments, participate in an audience questions panel moderated by George Noory, and interact with the speakers at the special Saturday night Meet the Speakers Cocktail Party. Further details here:
ANPconference.com
.
JULY 2018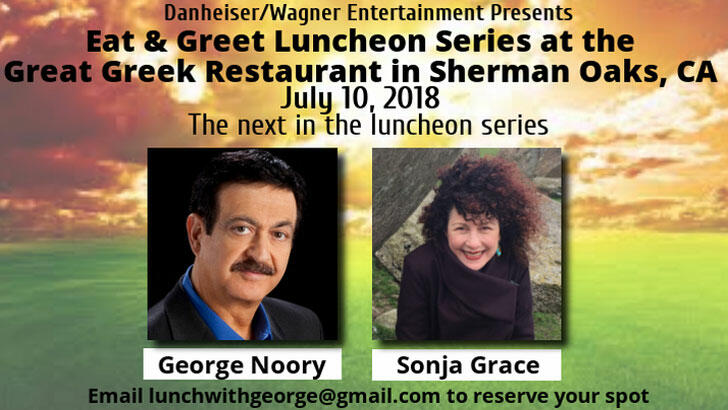 Special Event Series: "Eat & Greet" Luncheons at the Great Greek Restaurant in Sherman Oaks, California
Enjoy gathering with other like-minded people as you have fun at lunch and meet some of your favorite people in the world of the unknown and curious. Tickets will go fast, so reserve a spot now! Email your name and phone number to:
lunchwithgeorge@gmail.com
. You will be called back with details. The following dates are available:
Tuesday, July 10, 2018 – Lunch with George Noory & author/mystic healer
Sonja Grace
AUGUST 2018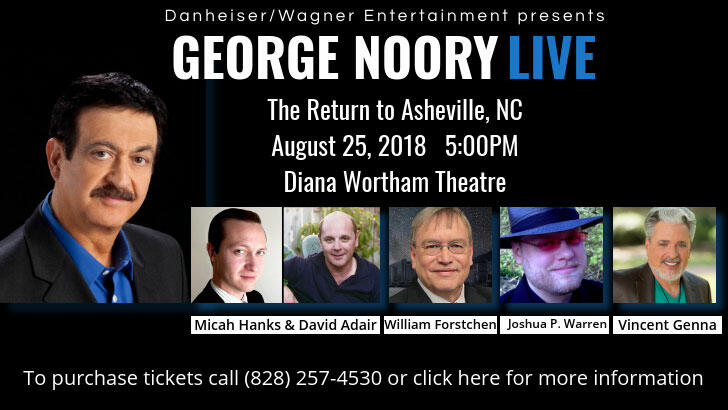 Saturday, August 25, 2018
Diana Wortham Theatre, Asheville, NC, 5-8pm

We're back and better than ever! Join us on Saturday, August 25, 2018 as we return to the beautiful Diana Wortham Theatre for an amazing show with special guests: The Rocket Man David Adair & ufologist Micah Hanks discussing Area 51; William Forstchen, author of "The Final Day" & "One Year After" speaking about solar attacks on our planet and our grid; Asheville's own paranormal investigator Joshua P. Warren and his wacky world; and spiritual teacher & psychic medium Vincent Genna. Plus a Live Band, Audience Participation, and a Meet & Greet to Follow!
Tickets
: Call 828-257-4530 or go to
DWTheatre.com
. Click the "Buy Tickets" button and off you go. Please email
danwagentertainment@gmail.com
for booth space information.