Hoagland Mars-Related Images
Richard C. Hoagland sent us several images to accompany his appearance on the 3/27/15 and 4/9/15 show. NASA Curiosity rover image (seen above), taken on Sol (Martian Day) 929, showing ancient, corroding machinery on Mars. Processed by Enterprise Mission Associate, Ron Gerbron.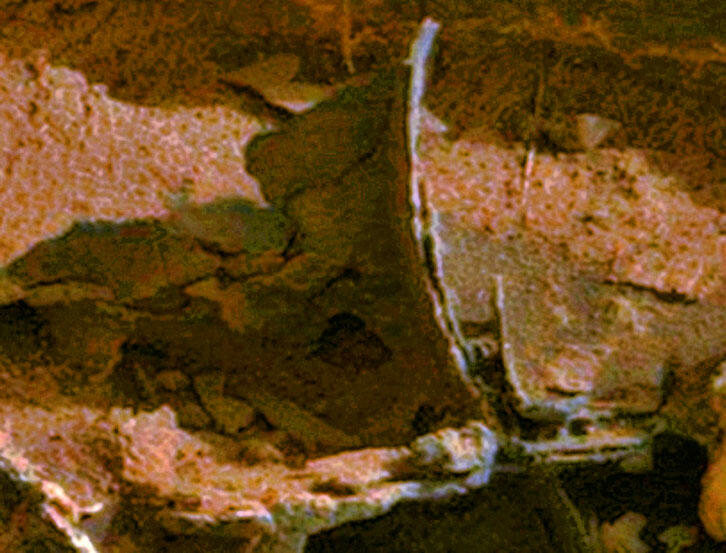 Close-up of the upper left-hand corner of image #1, showing a surviving portion of some kind of ancient, corroding mechanical device -- with apparent "bolts," "springs" and "fittings" attached at the base. Processed by Enterprise Mission Associate, Ron Gerbron.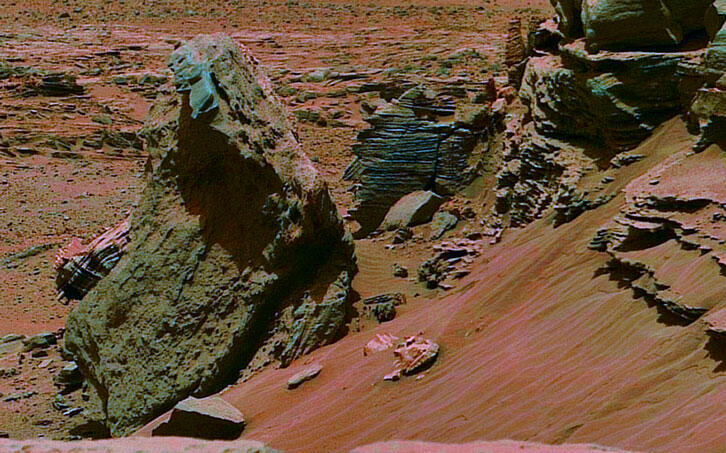 NASA Curiosity image from Sol 751, showing some kind of "massive, bluish metallic-looking object" -- sticking out of a pillar-like geologic feature. Behind it, to the left, a pink and blue "geometric object" is partially concealed by the pillar with the bluish piece of Martian junk on top. Processed by the Enterprise Mission.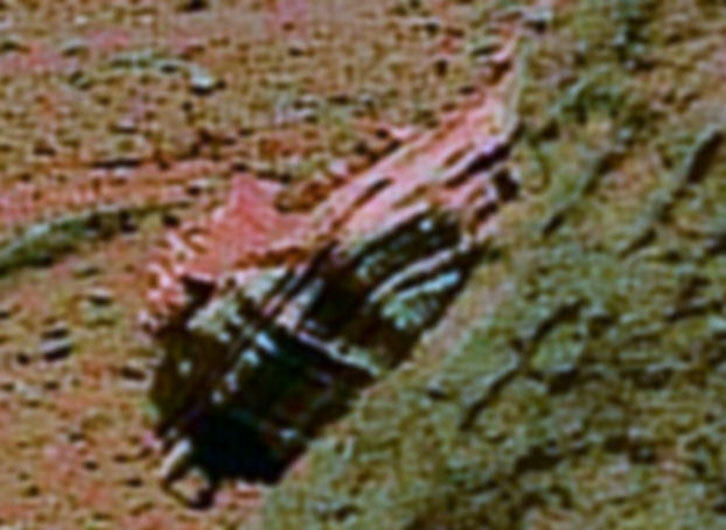 Close-up of the "pink and bluish geometric object"... Processed by the Enterprise Mission.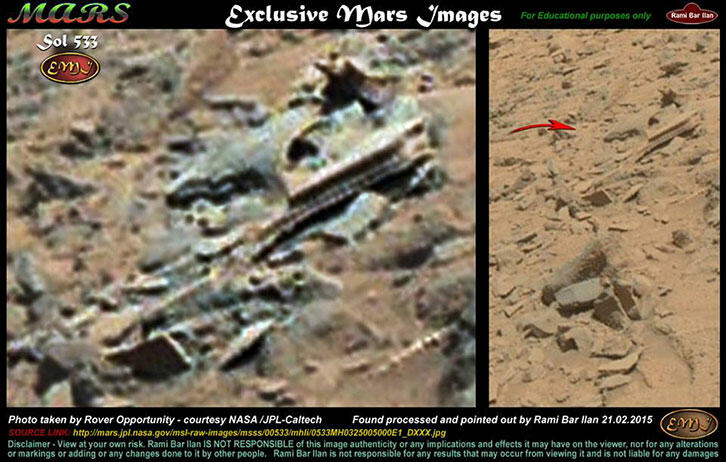 NASA Curiosity rover close-up of another obvious mechanical device on Mars, taken on Sol 533 -- this one in pretty good condition -- implying that it might have been left by a more recent "ancient Martian civilization" than the ruins seen in Image #1. Processed and presented by Rami Bar LLan, February 21, 2015.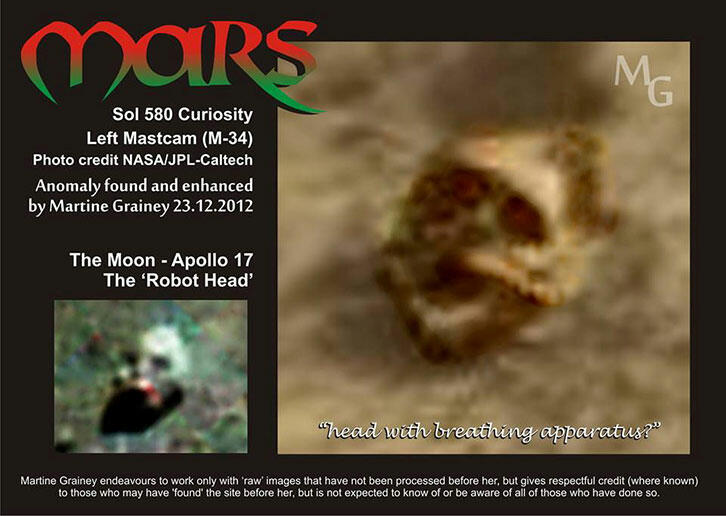 Apparent skull and helmet on Mars, captured by Curiosity on Sol 580, compared to "Data's Head," found on NASA Apollo 17 lunar images from Shorty Crater by the Enterprise Mission, 2006. The Martian comparison was found, processed and posted December 23, 2012, by Martine Grainey.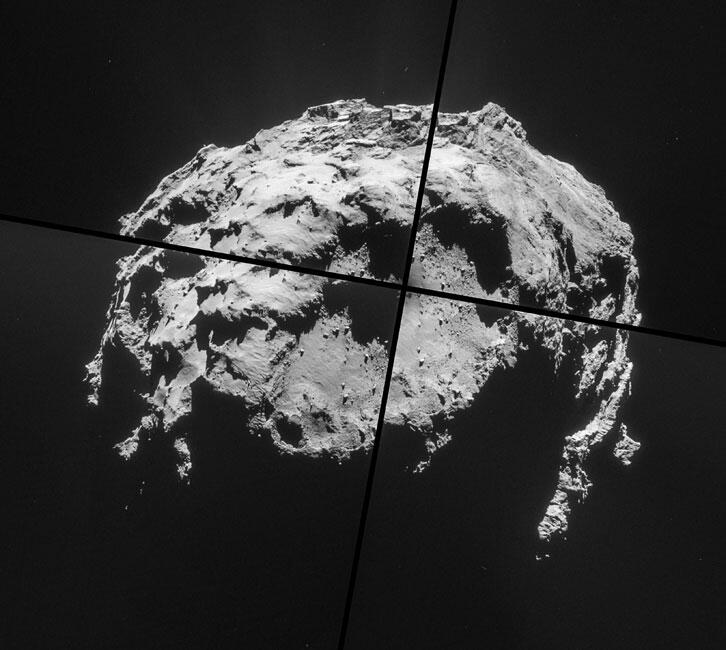 Wide-angle "quad" composite (four images) taken of Comet 67P/Churyumov–Gerasimenko February 14, 2015, by the European Space Agency's (ESA) unmanned "Rosetta" spacecraft. The "comet" is only 2.5 miles wide, and has a gravity field only 1/10,000 Earth's. Yet, it displays a bewilderingly complex surface geology, in addition to ancient, startlingly ARTIFICIAL-LOOKING RUINS visible all across its surface. Image processed by the Enterprise Mission.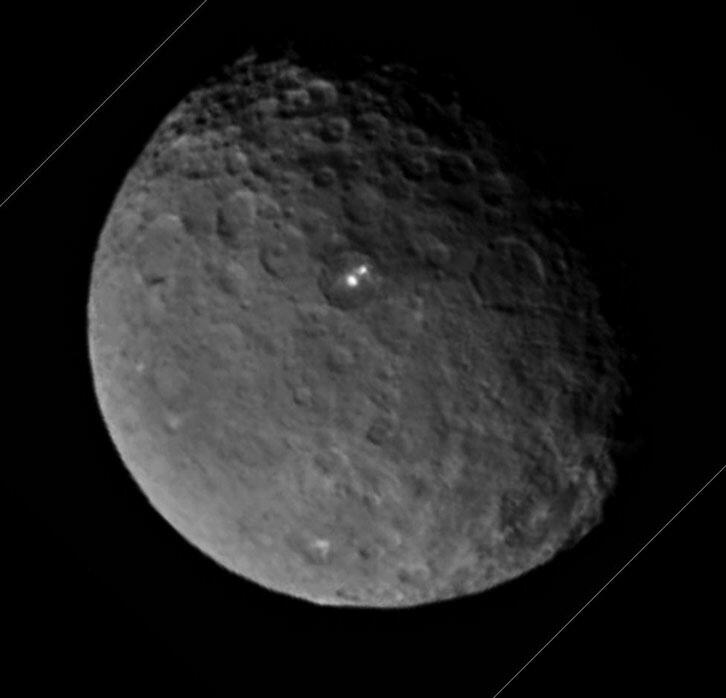 Asteroid/dwarf planet "Ceres," taken from NASA's DAWN unmanned spacecraft as it approached within 30,000 miles, Feb 14, 2015 -- after an ion-powered, 7-year "chase" across the solar system. Prominent on the hemisphere of the 600-mile-wide asteroid facing the DAWN spacecraft are two mysterious "bright lights" -- never seen on any previous NASA or other planetary surface. Major debate is occurring now over the origin of these two lights -- ranging from "cryo-volcanos" to "highly reflective EXTRATERRESTRIAL surface structures ...." Enterprise Mission analysis, using the latest refined "Ceres cartography," has discovered that "the lights, remarkably, light at ~19.5 degrees North ... and are aligned north of due east by ~19.5 degrees.