Live Nightly 1am - 5am EST / 10pm - 2am PST
Live Stage Show in South Florida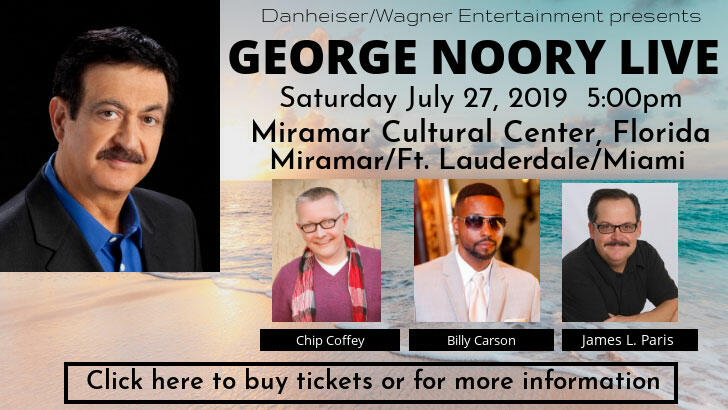 Danheiser/Wagner Entertainment Presents:
MIRAMAR / FT. LAUDERDALE / MIAMI
LIVE STAGE SHOW
George Noory Live: Fun in Florida 2019 Miramar Cultural Center, Miramar/Ft. Lauderdale/Miami, Florida
Saturday, July 27, 2019 - 5pm
Radio To Stage – Join the Grand Experience!
Join us on Saturday evening, July 27th, 2019 as we invade the beautiful Miramar Cultural Center for a jam-packed night of fun and conversation.

SPECIAL GUESTS:
Psychic, Medium & Spiritual Counselor Chip Coffey
Anomaly Hunter, Billy Carson (origins of ancient technologies)
Motivational Speaker Jim Paris (overcoming adversity, How to Pray for a Financial Miracle)
Live Band...Audience Participation
Meet & Greet to immediately follow the show
This is an event you don't want to miss…..
get your tickets now!
Call 800-745-3000 or go to
Ticketmaster online
.
Or visit the box office in person -
Miramar Cultural Center
, 2400 Civic Center Place, Miramar, FL 33025, Phone: 954-602-4500, prompt 1
Booth space info -
danwagentertainment@gmail.com