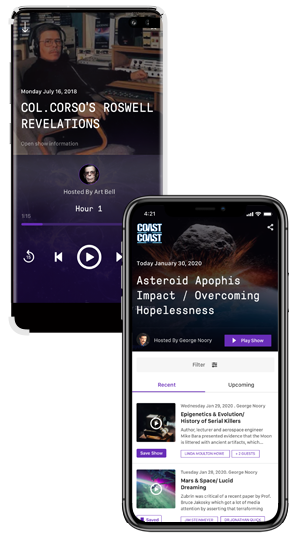 The brand new version of the Coast to Coast AM app is available on the App Store for the iPhone and iPad, and Google Play for Android devices.
We now offer:
The last 7 years of downloadable podcasts
The last 7 years of show audio streaming
Listen live feature
The Art Bell Vault
Classic Shows
Plus:
Original news articles
Full show recaps & guest bios
Ability to filter by topic and host
Once you sign up to become a Coast Insider, you can enjoy all the audio features of the app.
Need help with the app? Click here to learn how it works , or watch a video tutorial.
Download the Coast to Coast AM app today:
Please note: While the app focuses on the essential downloading and streaming of the most recent Coast to Coast AM shows, older downloads and content are available on coasttocoastam.com, which is optimized for both desktop and mobile browsers.
Given the wide number of manufacturers and models, we cannot guarantee support for all Android devices. On the iPhone and iPad, our app requires IOS5 and above.
Podcasts may take a few minutes to download with slow connections. Usage of the live stream and on-demand stream or podcast on the EDGE, 3G, 4G or LTE networks may result in additional data charges. Please check with your provider for more details.
If you have additional questions, please click here to visit our help center.