Tui Snider sent us a group of images & descriptions to accompany her appearance on the 10/01/15 show. She previously sent us intriguing photos of the Alien Headstone in Aurora, and the Tea Time Ghost.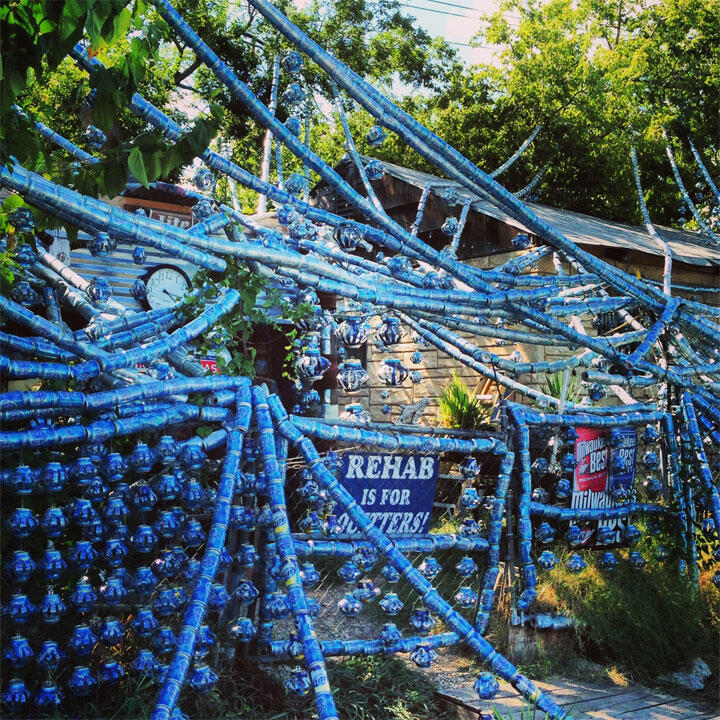 Fort Worth Beer Can House: It's always beer-thirty at the Fort Worth Texas Beer Can House. The home is owned by Louis Torres, who keeps the color scheme from becoming gaudy by only using Miller Lite and Milwaukee's Best Light for his creation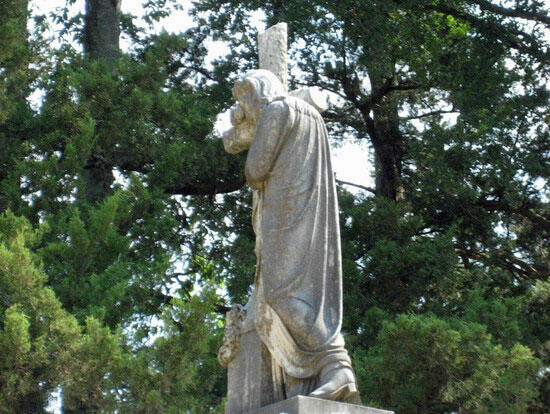 Jesus in Cowboy Boots: Known regionally as "the Jesus in Cowboy Boots," rumors surround this quirky grave marker in Paris, Texas which features a statue of a weeping angel wearing a pair of cowboy boots.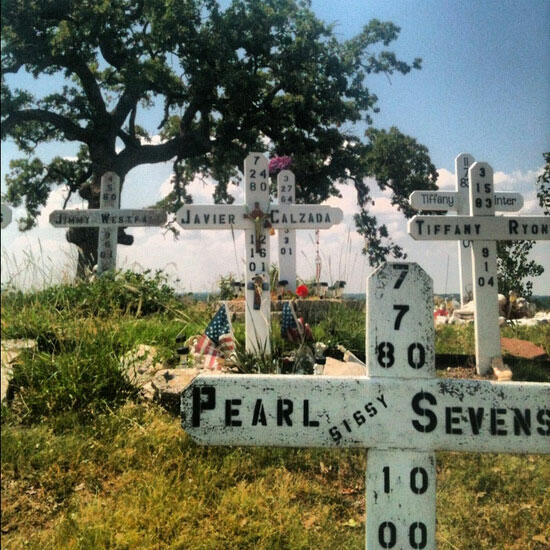 Garden of Angels Murder Memorial: When Carolyn Barker overheard her granddaughter's murderers saying they hope to get famous for their deed, she decided to do something about it. Barker wanted her granddaughter to be remembered and the men to be forgotten, so she placed a small white cross in honor of Amy Robinson in the area where her body was discovered. The Garden of Angels Murder Memorial now has over 100 such crosses to stand in the memory of murder victims, and has become a non-profit memorial park that host charity events to aid the living.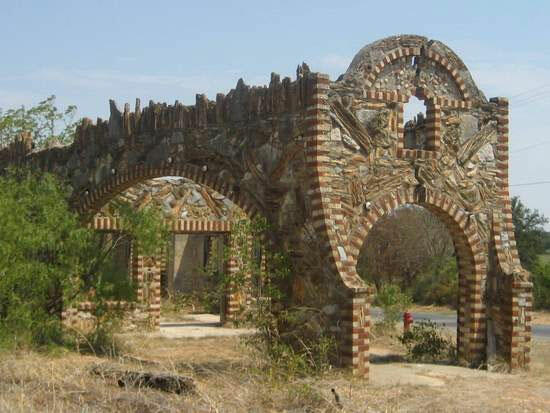 Petrified Wood Speakeasy: In its hey day, Glen Rose, Texas billed itself as "Petrified City." Even today, the town boasts more than 60 buildings built from petrified wood. The photo above is all that remains of what was once a local gas station/speakeasy known as "Sycamore Grove."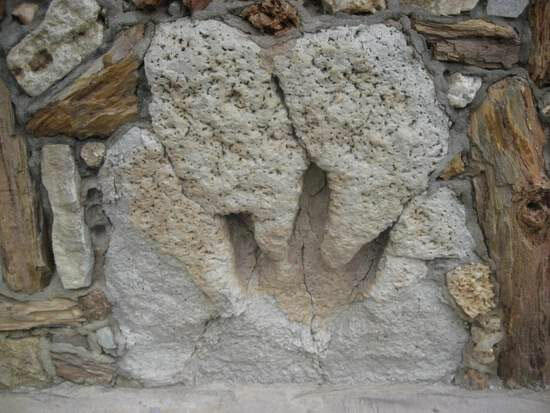 Dinosaur Footprint: Not only is Paluxysaurus Jonesii the Lone Star State's official dinosaur, but in true Texas style, Variety reported that Japanese director Ryhuei Kitamura will direct Vessels, a thriller based on the supernatural lore surrounding the fabled ocean liner. The footprint shown here is a prominent feature in the Glen Rose town square's petrified wood gazebo.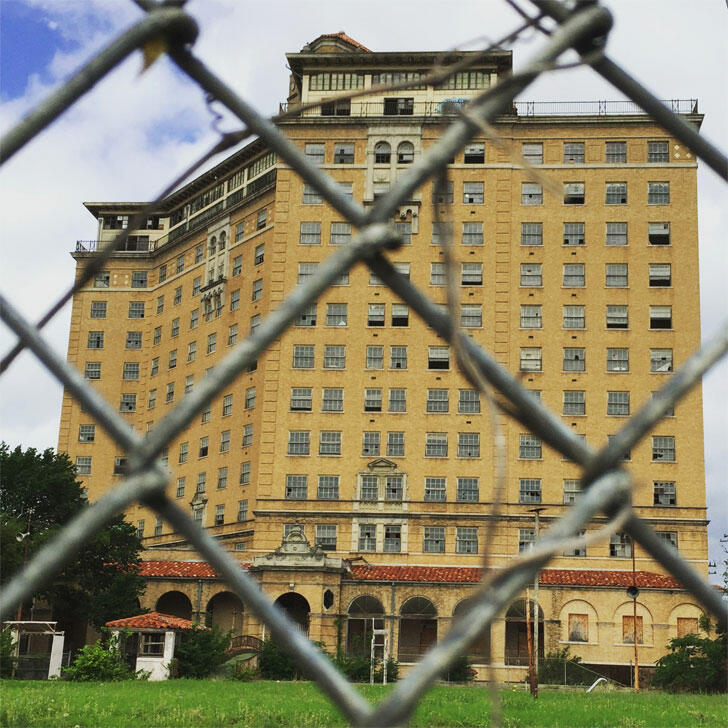 Baker Hotel: At a height of 14-stories, the Baker Hotel of Mineral Wells, Texas was the first skyscraper built in a small town rather than a major metropolitan area. Its rich and famous clientele once included Roy Rogers, Clark Gable, Helen Keller, the Three Stooges, and even notorious gangsters, Bonnie and Clyde. Although the building now stands neglected, it is far from empty, with a whole cast of ghostly entities allegedly residing there, including the red-haired mistress of the hotel manager, who is said to have leapt to her death.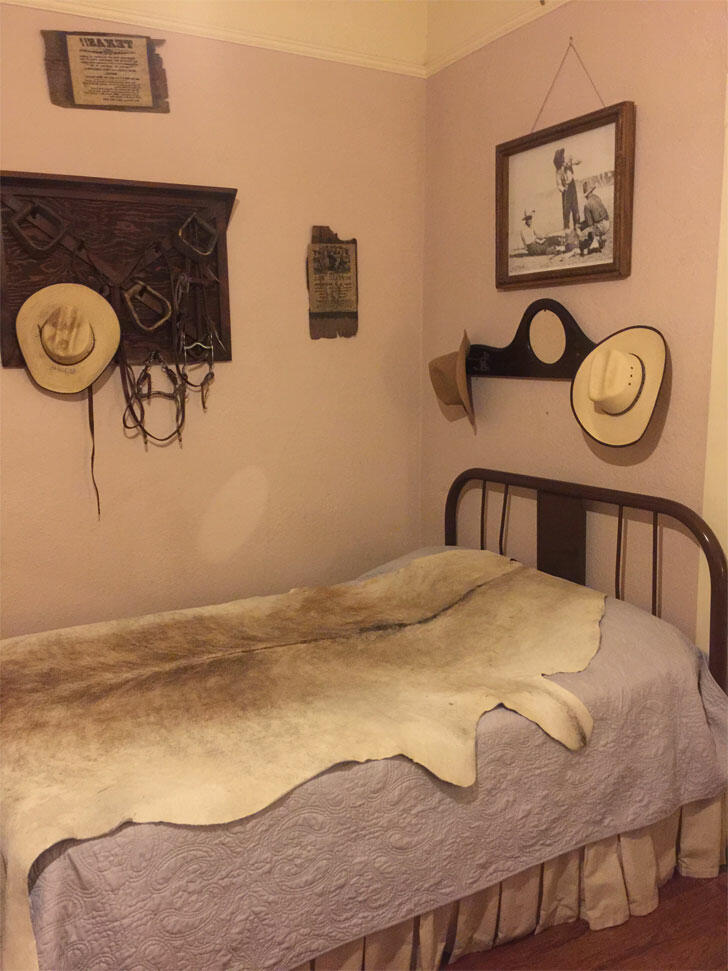 Miss Molly's: Unexplained phenomenon is so rampant at Miss Molly's that this hotel (and former bordello) in the historic Fort Worth Stockyards district has become a mecca for ghost hunters. The venue is even included in the curriculum for parapsychology classes at Texas Christian University. Paranormal activity at Miss Molly's runs the gamut, with guests reporting cold spots, the feeling of being watched, toilets flushing by themselves, water turning on/off by itself, doors opening/closing, inexplicable odors, EVP's, disembodied voices, anomalous photos, unexplained sounds, and full body apparitions.

More at TuiSnider.com.