An exclusive report for Coast to Coast

By Greg Bishop

From humble beginnings seven years ago, Contact in the Desert has grown to be the country's largest annual UFO convention. With 64 speakers presenting lectures and workshops on subjects from ancient astronauts to ancient aliens, from psychic spying to new material from the ufological old guard, there was something for all of the over 3000 people who attended the event in the town of Indian Wells, halfway between Palm Springs and Coachella in the Southern California desert.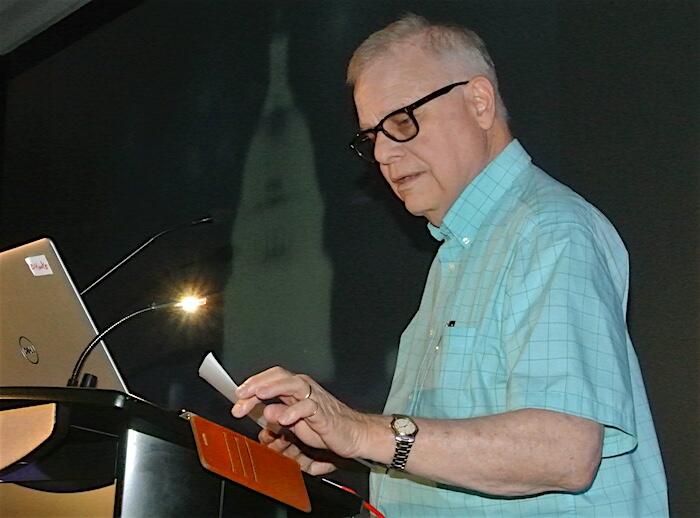 Whitley Strieber shows clips from his paranormal video collection.

Activities for early arrivers began on Thursday, May 30th with outings to the legendary Integratron, a building completed in the 1970s by a UFO contactee who believed that it could restore lost youth. On Friday, abductee Travis Walton presented new information about his famous case, and researcher/ reporter Linda Howe presented revelations about gigantic structures beneath the Antarctic ice. Whitney Strieber, legendary author of Communion and other books about the Visitor experience, screened strange and sometimes startling videos of paranormal activity from his vast collection, and later presented material from his forthcoming new book which he said his Visitor guides "ordered" him to write. He says the beings he interacts with are "outside of the context of our reality as we know it." Author and Ancient Aliens star David Hatcher Childress showed images of monolithic ancient architecture and outlined his suspicions that there appear to be artificial structures on the Moon that resemble ancient obelisks created on Earth. Tribal elder Clifford Mahooty described floating, flying lights that "everybody sees" nightly on the Zuni reservation.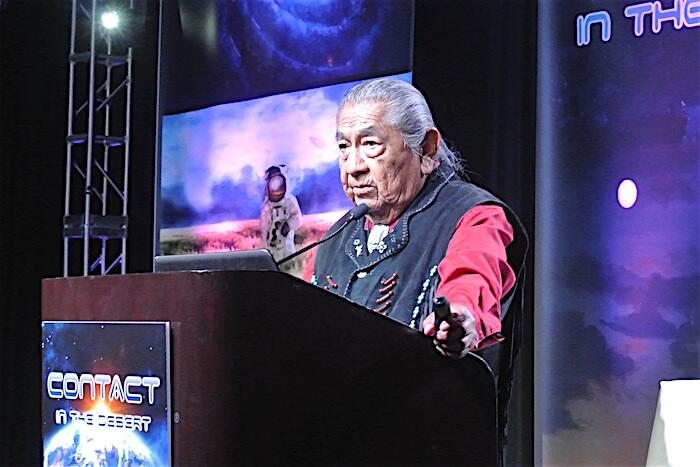 Zuni Elder Clifford Mahooty lectures.

Saturday saw noted author and maverick researcher of ancient civilizations Graham Hancock examining pre-columbian North America and also his idea that "maybe we're not the pinnacle of human achievement." Local Southern California researcher and author Preston Dennett gave a double lecture entitled "The Healing Power of UFO's & Unveiling The Mystery Of Undersea UFO Bases." His research has uncovered possible evidence of permanent UFO havens under the sea between the coast of Los Angeles and the Channel Islands. Longtime abduction researcher Yvonne Smith described new revelations about children who seem to have advanced knowledge and expressed the wish that society would "get to the point where people can open up about these experiences without fear of ridicule." Ancient Aliens star Giorgio Tsoukalos regaled fans with behind-the-scenes stories and answered questions in casual gathering. Our own George Noory celebrated his birthday at a sold-out lunch where he interacted with attendees and performed a few musical numbers to the delight of all. Noory said "It's great to see our audience up front and personal and they really get it. Contact in the Desert is a place where the greatest minds in ufology get together under the stars to discuss one of the greatest mysteries of our lifetime: 'Are we alone?'" Producer Tom Danheiser added, "What a great event! Being in a room with like-minded folks and listening to so many experts is something you have to experience."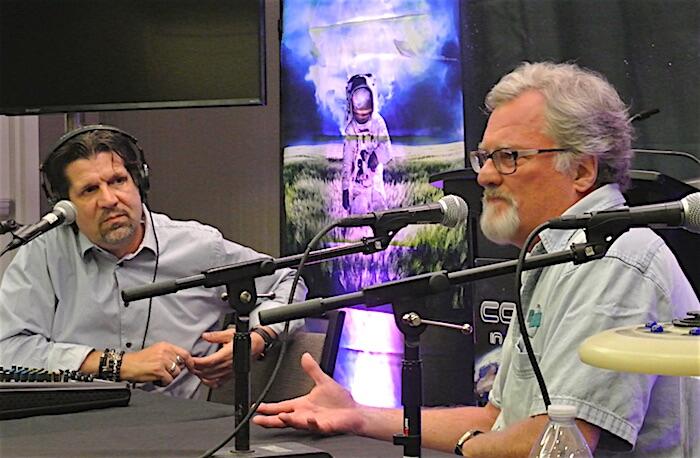 Radio host Jimmy Church interviews David Hatcher Childress live from the convention.

On Sunday, the day began with a panel of luminaries who discussed their views of the UFO contact experience. All agreed that we seem to be entering a period of increased activity with regards to strange experiences. Australian abduction researcher Mary Rodwell referred to a perceived increase in children who have UFO encounters and expressed her opinion that "we are all star kids, some of us are just older models." Conference organizer Victoria GeVoian said that change that would involve revelations of a non-human presence "must be done very slowly." All seemed to agree with the idea offered by panelist James Gilliland that "contact is all about personal responsibility," meaning that the preferred form of disclosure (in the panel's opinion) should be personal and arrived at through direct experience.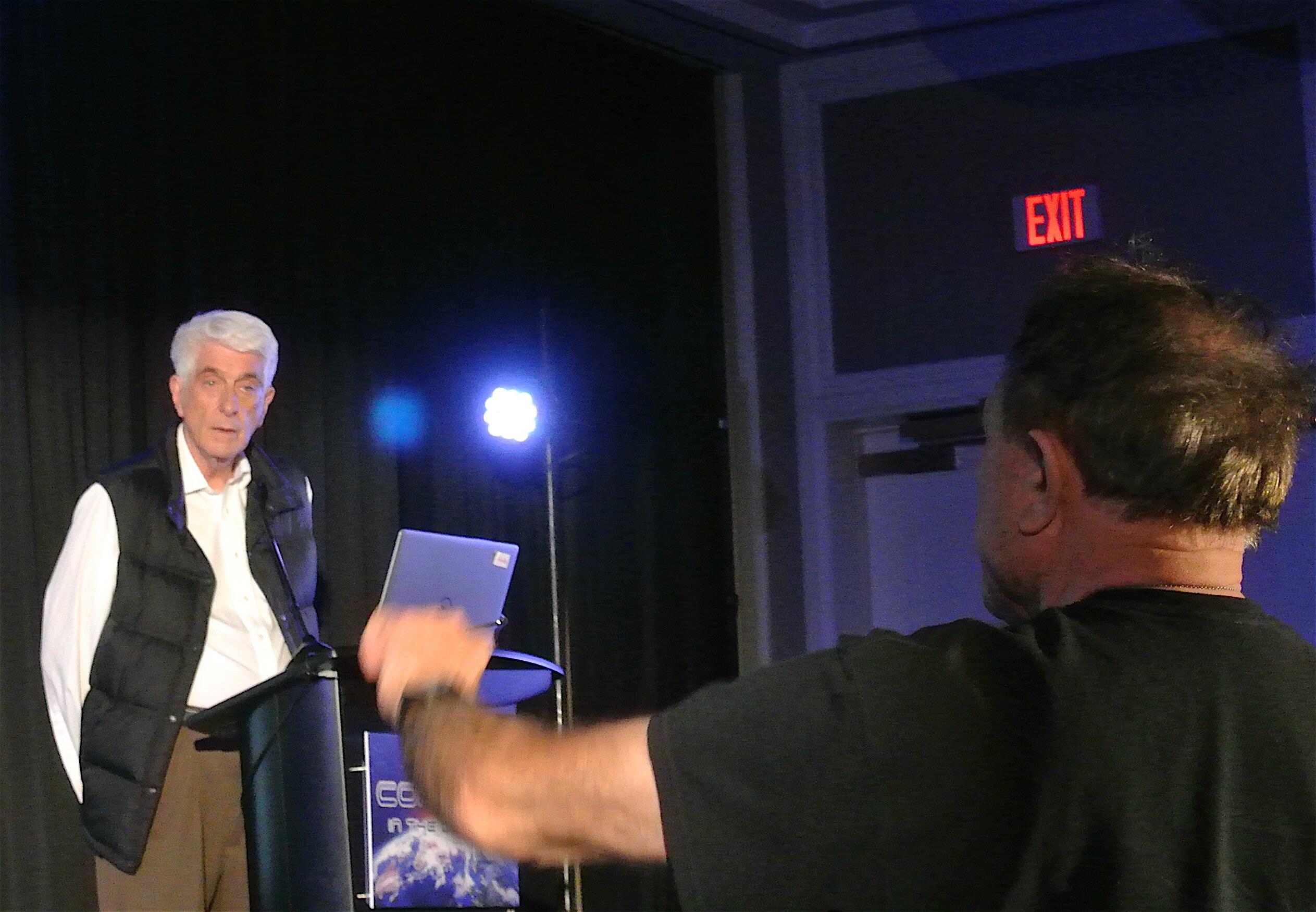 Researcher Dr. Jacques Vallee listens to a question from an audience member.

Astrophysicist, information scientist, and UFO author Jacques Vallee made a rare appearance to describe one of his methodologies for research with the use of an artificial intelligence system for filtering out mundane sources of UFO reports, which he originally developed in the 1960s and '70s. With all this detailed research, Vallee ended enigmatically with the statement, "If you think I'm still puzzled, I am."