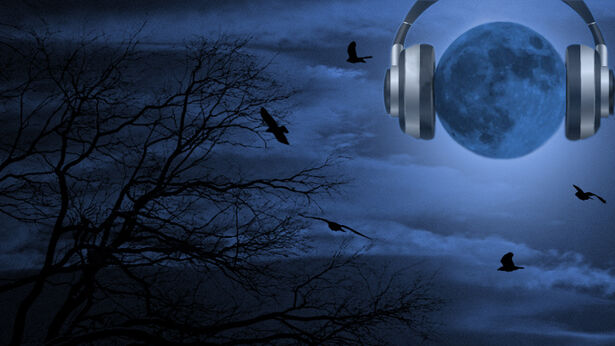 In the first half of the program, George welcomed Mr. Lobo, host of the nationally syndicated, late-night B-movie show Cinema Insomnia. Lobo discussed how he got his start in television, and the kind of films he chooses for his program. The show, which is carried on the AMGTV network, features "misunderstood" movies from many genres, including sci-fi, horror and kung fu.
Lobo also talked about America's rich legacy of TV horror hosts, noting Elvira, Dr. Morgus, and many other horror hosts of yesteryear. In the second hour, repeat caller J.C. phoned in to denounce Mr. Lobo and TV horror hosts in general.
Open Lines
During Open Lines, Mike in Little Rock, Arkansas, shared an experience that convinced him about the reality of the supernatural world. He said his girlfriend at the time would often tell him about seeing her dead aunt and grandmother. According to Mike, he did not give this much thought until one night when he saw "two misty things" hovering over her as she slept. Mike believes he witnessed the spirits of his girlfriend's departed aunt and grandmother, sent to watch over and protect her.
Joe from Boston asked George about acquiring a 'Frank's Box' so that he could talk with this recently deceased father. George said he'd put him in touch with paranormal researcher Rosemary Ellen Guiley, who has several of the devices which purportedly allow for real-time, two-way communication with spirits on the other side. Chris in Clearwater, Florida phoned in to discourage listeners from contacting their deceased friends and relatives, as it prevents them "[merging] with love and compassion."
Hoagland Update
In the final half-hour, Richard C. Hoagland of Enterprise Mission provided commentary/updates on the mystery spiral that appeared this week over Norway (article), as well as the Indian Space Research Organisation's announcement that the Chandrayaan-1 probe picked up signatures of organic matter, possibly life, on the Moon (article). Hoagland believes the ISRO's statement is only the beginning, and that official disclosure of extraterrestrial life is imminent.
Website(s):
Related Articles
Tim Kedrowski and sons, Peter and Casey, say their motion-activated game trail camera captured this image of a black creature, approximately 7-feet tall, moving through a stand of trees on his land near Remer, Minnesota, on Oct. 24th. The alleged Bigfoot photo, first published by The Bemidji Pioneer, has stirred up a heated debate around the Web. Check out Loren Coleman's update and comments on the story at Cryptomundo.
Bumper Music:
Bumper music from Friday December 11, 2009