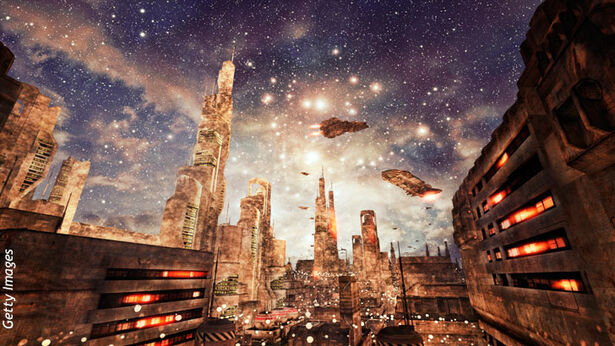 In the first half, Mr. Lobo, the host of Cinema Insomnia, a nationally syndicated show seen in over 30 television markets, discussed sci-fi and horror films, as well as his new channel for Roku TV, OSI 74. The notorious C2C phone caller, JC Webster III, has a recurring segment on the new channel called Preacher Features. Horror and sci-fi genres have started to blend together in recent years, Lobo remarked, adding that in countries like Russia they refer to such films under the umbrella of "fantastika."
Lobo said he admires the work of cult film director Ed Wood, who was "one of the first independent filmmakers...and one of the most prolific American writers-- he was immune to criticism; no matter how terrible he was, he just kept going." Lobo was recently featured in a remake of "Plan 9 from Outer Space" called Plan 9, playing the role of the psychic, the Amazing Criswell.
He described how some of the black & white sci-fi films of the 1950s were daring in their way, and though often produced on small budgets, they were able to create a lot of atmosphere and tension. He cited Jack Arnold as a particularly good director of that era-- his films included "It Came From Outer Space," "Creature From The Black Lagoon," and "The Incredible Shrinking Man." Lobo also talked about the phenomena of local horror hosts that began when a lot of TV stations got a syndicated package of genre films from Universal Studios. Early hosts included such personalities as Vampira, Ghoulardi, and Zacherley.
-------------------------
Midweek Open Lines were featured in the latter half. Joseph in Jacksonville shared an account of "the knock of death." During a time when his mother was sick in the hospital, he heard a strange knocking at his door at 2:30 in the morning and no one was there. About three hours later, he received a call that his mother had passed away during the night. Anita in Canton, Ohio related a childhood tale about a doll that looked like "Chucky" from the movies, and how she placed a knife in its hands and scared her younger sister with it, reciting Chucky's tag line "I'm you're my friend till the end."
News segment guests: Lauren Weinstein, Steve Kates
Website(s):
Bumper Music:
Bumper music from Wednesday April 27, 2016