In the first half, investment advisor Catherine Austin Fitts joined George Noory to discuss the push to develop a COVID vaccine. She believes it is not a medical treatment, but could be an operating system in our bodies that uses "viruses" to mandate an initial installation followed by regular updates. She cited how Charles Lieber, a Harvard nanoscientist, was working with the Wuhan Lab in China, on a brain-machine interface injection prototype (US officials recently arrested Lieber for making false statements about his collaboration with China). The push to call a new COVID treatment a vaccine, Fitts explained, stems from the pharmaceutical and biotech companies wanting to be free from any medical liabilities (as assured by the passage of the National Childhood Vaccine Injury Act of 1986). 
These potential drugs or biotech concoctions may be part of a plan to "radically re-engineer the economy," she suggested, in which a digital currency structure connects into a person's biological system through nanotech injections. She warned that this might be the ultimate control system-- a step well beyond pharmaceutical companies drugging the populace to make them more compliant. Fitts referred to the quarantine-mandated closure of businesses as a way for the Fed "to buy Main Street," giving central bankers more control over state and local areas. Regarding COVID-19, she questioned whether the deaths were strictly due to a virus, and were more related to a complex of issues, including vaccinations, pollution, and environmental problems. For more, see her recent article, "The Injection Fraud – It's Not a Vaccine."
--------------------
Author and educator Gary Collins was a former special agent for the FDA investigating food and drug crimes and public health dangers, including counterfeit prescription drugs and pet food. In the latter half, he talked about his life off-the-grid and how using the tactics of simplicity can optimize health and well-being, and lead to financial freedom. He defined living off-the-grid as not being connected to public utilities. The process of maintaining his own power sources is ongoing, he said-- he just added a rack for two new solar panels. Life on his large remote property offers "complete freedom" and a quietude that he treasures.
Collins commented on the 'tiny home' movement, which is growing in popularity. He's concluded that pre-built tiny homes are not nearly as good a financial value as the ones that people construct themselves. Rather than pre-built, those looking to scale down may be better off just getting an RV. One of the first steps to living more simply is to de-clutter, Collins noted, adding that we can be happy with far less stuff, especially if living off-grid. The problem is, he continued, "we have given our freedom away willingly...and that means we have to take it back." This can be accomplished by focusing on three areas-- health, financial freedom, and life purpose.
News segment guests: Christian Wilde, Dr. Peter Breggin
Emerging Artists 5/7/20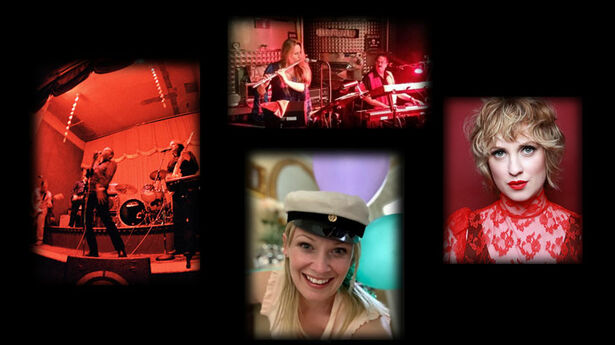 The first Sunday of every month, George Noory features emerging artists for some of the Bumper Music selections. Tonight, we'll hear from Greg Cottingham, Paige Cora, Deck Q, Rune & Bonnie Truelove, Elli Nine, The Druggles, and The KW Combo. For more info on how to submit your original music, visit this page.