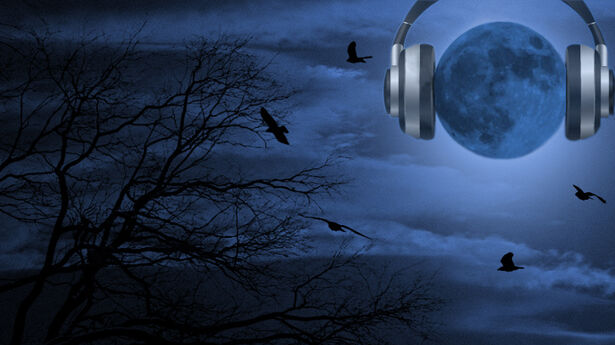 Inspired by the frightening tale of the hook-armed killer of Lover's Lane (read "The Hook" legend at snopes.com), George offered a special 'Campfire Stories' Open Lines.
Andrew from Biloxi, Mississippi said he and some friends were sitting on the beach near a casino when they witnessed a 'shadow' run past them and into the ocean. Andrew said he is sure there was no person connected to the shadow, though he did hear splashing noises when the shadow hit the water. A caller from Missouri reported seeing an unidentifiable animal about the size of a grizzly bear with a very long snout and tail. To ensure this strange creature is not hunted, the caller would not disclose the exact location of his sighting.
A projectionist from Oregon shared her experiences working at a haunted theater. She claims a ghost named 'Frank' would throw things, growl through the theater speakers, and stare at her from the projection booth window. Using a Ouija Board, the caller was able to communicate with Frank, who spelled out, "God doesn't like me... because I slither." The caller said she left her job there and the theater has since been turned into a haunted house.
Deep Impact & Dead Birds
During the first hour, reporter and editor for Earthfiles.com, Linda Moulton Howe, gave an update on the Deep Impact spectra results presented at the 9th International Asteroids, Comets and Meteors Conference in Brazil. Linda said data from the Deep Impactor collision showed that 50% of Comet Tempel I is water ice. The Deep Impact spectra also showed every major rock forming element (except for iron), polycyclic aromatic hydrocarbons (PAHs), as well as hydrogen cyanide and methyl cyanide, which Linda explained are precursors of the amino part of amino acids. Such findings could mean comets played a vital role in seeding life on Earth, Linda speculated. Read more at Earthfiles.com.
Linda also discussed how warming Pacific coast waters are contributing to thousands of bird deaths. According to Linda, temperatures off the coast of Oregon are 8 to 11 degrees F warmer than usual, which has caused a decline in phytoplankton. Many species dependent on this food web have died off, including as many as 100,000 adult birds, Linda reported. Read more here.
Bumper Music:
Bumper music from Friday August 12, 2005