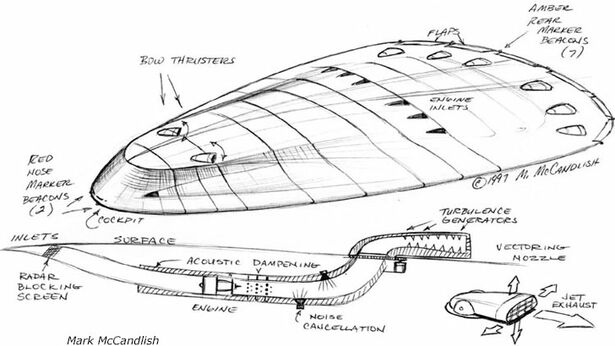 Conceptual Artist and researcher Mark McCandlish spoke about unusual and breakthrough technologies as well as issues related to UFO activity and craft. He shared his first-hand experiences with the inexpensive product acetone. When added to premium fuel in the quantity of 2.5 ounces per 10 gallons of gas, it improves combustion efficiency and gas mileage by 25% to 35%, he reported. But the addition of acetone doesn't work with gas that contains ethanol, he noted.
McCandlish presented his research into witness testimony regarding anomalous aircraft such as the "Alien Reproduction Vehicle" (see related images), which he suggested had been back-engineered from a "recovered" craft. Vehicles such as this may use a kind of antigravity propulsion that allows them decrease their mass as they move through space, he explained.
He also discussed his investigation into alien abduction reports in which he has found some corroborating evidentiary details. Abductee descriptions of UFOs often correlate with very specific components of anomalous craft he has studied, and in one case he said a woman had a small metallic disc implanted in her ear that replaced her tympanic bone, which she claimed the aliens had removed earlier.
Bumper Music:
Bumper music from Tuesday September 27, 2005