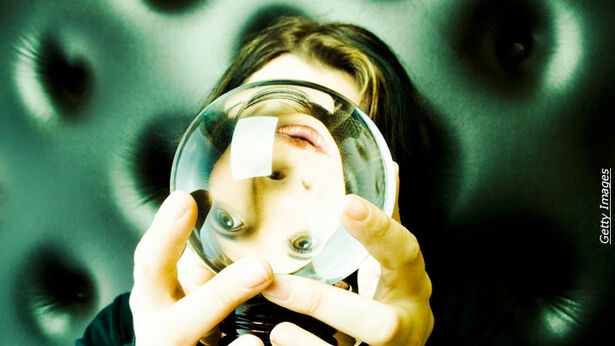 Filling in for George, Ian Punnett hosted an evening of Open Lines with a special emphasis on the weirdest things people have seen in the woods. Kevin in Wisconsin recalled seeing a mysterious stranger dressed in 1880s attire during a hunting trip. According to Kevin, the man suddenly appeared, walked to an open area of the forest, then faded away as inexplicably as he'd shown up. Kevin said he investigated but could find no trace of the person.
Vaughn told Ian he was returning to his home in the woods of Central Texas (about 150 miles southeast of Stephenville) on the night of November 15th, 2001 when he witnessed a aircraft with a 100-ft wing span hovering just above his neighbor's barn. He said he watched the object until it disappeared, then went to bed and was awakened at around 2:30 am by lights flashing around his house. Vaughn believes it was an operation by a pseudo-governmental organization using magnetic resonance imaging to locate firearms.
Thomas in New Hampshire said he and his pals would often pass by a 'glowing tree' on their way back from an evening of swinging into the Merrimack River. The trunk of the tree was not lit by artificial lights yet glowed white with a slight tint of green, Thomas noted. Don in Pennsylvania remembered the time he and a group of friends stumbled upon an old abandoned wooden shack in the forest behind his house. Inside Don said they found pots and pans, and the bones of small animals scattered about.
Medicated Military
In the first hour, Dr. Ann Blake Tracy discussed the widespread use of antidepressants among US combat troops. According to Tracy, as many as 90% of returning vets are taking some kind of SSRI (selective serotonin reuptake inhibitor) to deal with the trauma of war. She also reported on a Japanese Health Ministry study that found a causal connection between antidepressants and violence.
Tracy was joined by Stan White, who lost one son in combat and another to a lethal combination of drugs prescribed to help him cope with Post Traumatic Stress Disorder. White is currently searching nationwide for other military personnel who have spontaneously died from the toxic effects of mixing antidepressants, antipsychotics, and pain medication. He can be contacted by email at hswhite2346@yahoo.com.
Note: Due to technical difficulties in Manilla, Art Bell's live program with Dr. Bob Koontz was postponed.
Website(s):
Book(s):
Related Articles
Check out Ian's latest musings and insights at his blog site.
Bumper Music:
Bumper music from Friday May 22, 2009