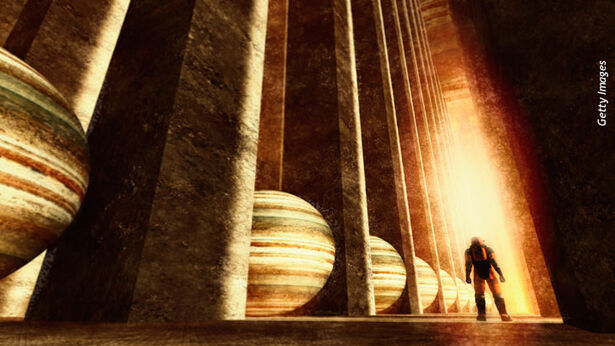 Author Christopher Knight talked about how knowledge from a highly advanced civilization can be seen in the henges in Britain, the Pyramids of Giza, and even in the design of Washington, DC. According to Knight, a civilization dating back 8,000 to 12,000 years ago had developed precise units of measurement based on an intricate understanding of the solar system. One of their units, known as a megalithic yard, was passed down to the henge builders and is clearly reflected in the layout of their Neolithic structures, he explained.
The henges themselves were scientific instruments built to measure the heavens with absolute accuracy, Knight said. They were used to calculate everything from the movement of Venus to the timing of eclipses, he continued. The henges were built at key points of longitude and latitude by an international community of scientists, and laid out in such a way to represent the stars in Orion's belt, Knight added. Curiously, the Giza pyramids were arranged in exactly the same way in relation to the constellation and constructed using the same ancient measuring systems, he said.
Knight claims to have found the same measurements utilized throughout the U.S. Capitol. The Naval Observatory Building is essentially a modern henge constructed to honor the important things that happen in the heavens, he pointed out. Knight suggested the planners of DC used ancient principles of measurement to somehow link to heaven and God's power, and this knowledge had been preserved through the ages by Freemasons.
The Mob's 'Hit' Man
In the first hour, rock legend Tommy James (of Tommy James & The Shondells) shared the story of how he climbed to the top of the 1960s music charts with a little help from a mob-run record label. James was discovered shortly after his single, "Hanky Panky", went to number one in Pittsburgh in 1965. After recruiting musicians from the Raconteurs to become The Shondells, James said he headed to New York, where he ended up selling the master of "Hanky Panky" to Roulette Records. The owner, mob-connected record mogul Morris Levy, had 'persuaded' other record companies in the Big Apple to let him have the act, James explained. The unlikely partnership produced numerous hits, including "I Think We're Alone Now", "Mony Mony", and "Crimson and Clover". James credits much of his career success to Levy, though he admitted the label failed to pay him an estimated $30-$40 million in royalties for his songs.
Website(s):
Book(s):
Related Articles
A pilot's amazing escape from a plane crash during an air show practice has been captured in a dramatic video. Captain Brian Bews ejected only moments before his CF-18 Hornet fighter jet smashed into the ground and exploded in a ball of flames at the 2010 Alberta International Airshow. The cause of the crash in unknown. View footage and photos at Sky News.
Bumper Music:
Bumper music from Saturday July 24, 2010