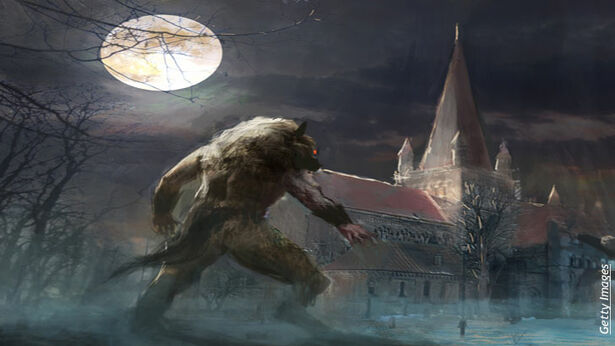 In the first half of the program, researcher and author Linda Godfrey reported on sightings of an unknown upright-walking canine known as the 'Manwolf' or 'Dogman.' Witnesses describe these creatures as 5 to 7 feet tall, extremely muscular, covered in fur, with large fangs, the head of a wolf or German Shepherd, and somehow imbued with a special sentience (perhaps as a result of walking on their hind legs). According to Godfrey, every part of the United States has its own version of the creature, but the largest concentration of sightings are around the Great Lakes. In addition, there are what appear to be migratory routes to Oklahoma and some south eastern states, she added.
Godfrey provided details from a recent case that may have involved a canine cryptid. On December 29, 2010, a Quarter Horse was found dead in the driveway of a stable near Deerfield, Wisconsin. The animal suffered a fatal neck wound that looked as though something had taken a single swipe at it and cut the jugular, carotid, and part of the trachea, Godfrey explained. A similar incident occurred only 15 miles away in Jefferson, Wisconsin, where, in 1972, a woman reported seeing a tall hairy humanoid on her property. The creature left claw marks on the side of the woman's house seven feet above the ground, as well as entered her barn and put a 30-inch gash into a horse's neck, she noted.
This past October a group of six people ventured to Wisconsin's infamous Bray Road, where they came face-to-face with the roadway's namesake beast, Godfrey continued. Four of the six reported seeing two creatures standing 6 to 7 feet tall, moving upright on their hind legs, with canine silhouettes and yellowish eyes, she said. According to the witnesses, as soon as the creatures saw they were being watched they dropped to all fours and ran off into the darkness. Godfrey also shared the case of a fisherman who confronted a walking canine creature on the banks of the Alabama River, as well as the 2006 account of a father and son who encountered a 'Manbat.' The flying creature had a 10-ft wingspan, emitted an ear-piercing shriek, and caused the men to become immediately ill, Godfrey revealed.
The remainder of the show was devoted to Open Lines, with several callers sharing their own creature encounter stories.
Website(s):
Book(s):
Related Articles
A futuristic water-powered jet pack was unveiled at the recent London International Boat Show. Using a powerful engine to pump water through two downward pointing tubes, the Jetley Flyer allows its operator to hover almost 100 feet in the air and travel at speeds up to 22 mph. More info, including video, at Mail Online.
Bumper Music:
Bumper music from Friday January 7, 2011