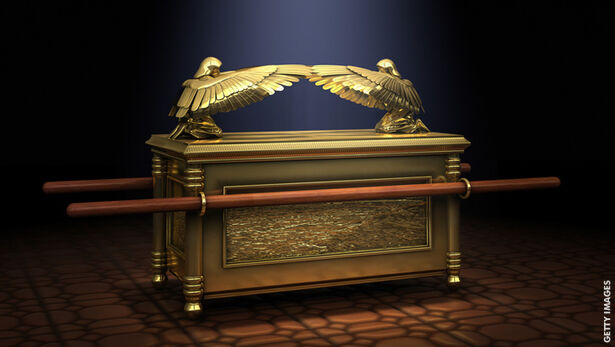 In the first half, Bible and Ark of the Covenant expert Harry H. Moskoff joined Richard Syrett to discuss the location of the Ark and how it may have had multiple purposes, including serving as a channel between man and God for prophecy, and communications. The Ark was a golden chest made by the ancient Israelites to carry the two stone tablets given to Moses at Mount Sinai. It also functioned, he said, as a kind of weapon of war, and to help lead and clear the way through the desert, with beams of energy that it shot out. The powerful chest was indestructible and acted as a magnet for God's presence, he noted.
According to Moskoff, the location of the Ark of Covenant is not lost but is exactly where it was left over 2,700 years ago, buried underneath the Temple Mount in Jerusalem. One account from the Talmud tells of a priest who came upon a lost tunnel at the location but became consumed by a fire, and in a more recent expedition the searchers were hit with quake-like tremors as they neared the underground area, Moskoff detailed. These were signs that the Ark was not meant to be re-discovered at those times, he suggested, adding that if it was found now it would likely either presage peace or a world war.
---------------
A passionate call to arms is needed against a death storm sweeping across the Americas, according to board certified pain physician, Dr. William Morrone. In the latter half, he argued that heroin and fentanyl are changing the landscape forever and that most doctors are ill equipped and inaccurately trained to treat addiction and overdoses. The current problem, he cited, can be traced back to the 1990s, when a lot of physicians started prescribing pain meds for patients with chronic issues, with no plans to ever get them off the pills. Another issue is that patients started casually sharing their pain medications with friends and family.
The young people that are dying from overdoses tend to be cases where they were no longer able to get their pain meds after the crackdown on so-called "pill mills," as well as doctors being pressured to stop writing prescriptions. They ended up turning to heroin, and fentanyl products, which can be bought cheaply, Morrone reported. He faulted the pharmaceutical companies for introducing narcotics with a high dependency rate into a provider base that did not have the education to properly evaluate the consequences, as well as Big Pharma pushing potentially addictive drugs onto the public to increase their revenues. Morrone also talked about alternative treatments for pain, such as P-Stim and Alpha-Stim, electro-stimulation devices that can help re-wire the brain.
Couldn't catch this episode of the show? Sign up for Coast Insider to listen at your leisure and never miss another program again!
Website(s):
Book(s):
Bumper Music:
Bumper music from Sunday July 30, 2017