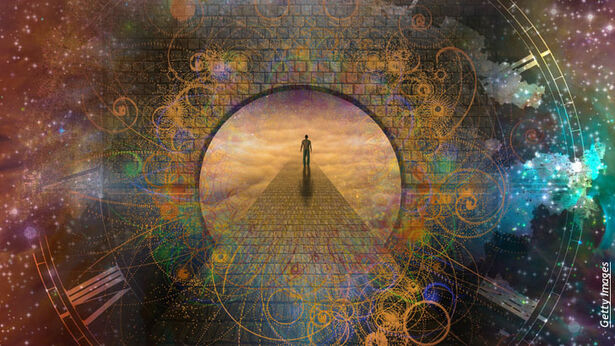 Filling in for George, Art Bell welcomed psi researcher and experiencer Starfire Tor, who discussed time shifts and time slips as well as other strange occurrences involving time. During the first 90 minutes, they were joined by Whitley Strieber, who shared his take on Tor's research. He mused that these time anomalies suggest that "the boundary between the classical and quantum worlds is actually fuzzier than we would like to believe." Despite the far-reaching implications of such research, Tor lamented, "no scientist, except myself, ever really tackled these anomalies."
She shared the story of one instance where she claims to have documented a time shift taking place. She explained that she and one of her research partners had noticed the phenomenon appearing to take place in a region of Southern California, so they went to a parking lot in the area and filmed it. Upon returning three months later, they found that a massive Circuit City building now stood in the once-empty parking lot. Tor alleged that the store employees all said that the building had been there for a year. However, upon re-examining the video tape from three months prior, she exclaimed "where the Circuit City was now ... there was nothing! It's just a parking lot!"
Another time anomaly which Tor discussed was what she called a "time shift living-dead person." This phenomenon happens when one remembers knowing that someone has died, often a celebrity, but then later finds out that they are actually still alive. One such instance of this occurring, she said, is with Nelson Mandela, a case often mentioned by Art on C2C in the past. Tor suggested that this enigmatic scenario is the result of a time shift, where, in the new timeline, the deceased person is no longer dead. As a result, she said, the brain develops a "dual memory time line conflict," where one remembers a past event that no longer happened.
Website(s):
Book(s):
Related Articles
A new wrinkle has emerged in the decades-long debate over the veracity of the Shroud of Turin. A researcher in the Vatican claims to have discovered faint writing on the cloth which, she believes, dates back to the time of Jesus. Adding more intrigue to the discovery, she also alleges that, upon deciphering the text, it was revealed to be a death certificate for one "Jesus Nazarene." More on the story here.
Bumper Music:
Bumper music from Friday November 20, 2009