In the first half, singer and songwriter Smokey Robinson joined George in the studio to discuss his music career, the early Motown days, the state of music today, and what it's like to be one of the most influential contributors in the music industry. He revealed that he was nicknamed "Smokey Joe" as a child as he loved cowboy movies, particularly ones where the cowboys sang such as Gene Autry and Roy Rogers (at age 12, the 'Joe' part of the nickname was dropped). He sang from an early age, and grew up in Detroit near Aretha Franklin, who became one of his closest friends. Robinson recounted when he first met Berry Gordy (before he started Motown Records). At the time, Gordy was managing Jackie Wilson, and Robinson and his group auditioned for him. Though Gordy didn't take them on as performers at the time, he was interested in Smokey's compositions and songwriting.
One of his songs, "Shop Around," was originally written for the artist Barrett Strong, but Gordy asked Robinson and the Miracles to record it themselves. They did a bluesy version of it initially, but Gordy suggested re-recording it after it was already released with a different, more pop sound that went on to become the Miracles' first million-selling record. He shared anecdotes about some of the well-known musicians he's befriended over the years, including Johnny Mathis, The Temptations, Sammy Davis Jr., and Whitney Houston. Currently playing select concert dates in the US, Smokey said he travels with an 18-person entourage which includes his lighting and stage crew. He also talked about one of his side projects-- Smokey Robinson Wines, where the different varieties are named after some of his popular song titles.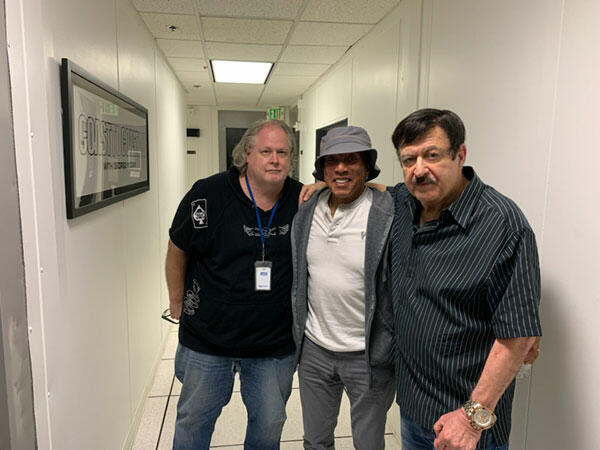 Pictured l to r: Tom Danheiser, Smokey Robinson, George Noory
----------------
Kimberly Meredith is a medical intuitive, trance channeler, psychic surgeon, hands-on healer, and spiritual teacher. In the latter half, she shared teachings, healing secrets, and nutritional tips. She detailed how after a severe accident and subsequent near-death experience in 2012, she started experiencing "eye blinking," which she associates with messages from her spirit guides (she'd had these abilities as a young child but pushed them out of her life). Meredith says she is able to heal people through her guides, as they are transported into the "5th Dimension" where miracles can occur. Her "Angel Club" offers access to healing workshops, live streams, and lessons.
Meredith's healing abilities were tested by the Institute of Noetic Studies (IONS), and neurosurgeon Dr. C. Norman Shealy, founder of the American Holistic Medical Association. For Shealy, she scanned 21 different patients and demonstrated her healing abilities while in trance. Within minutes, she was able to dissolve a lymph node on the side of a woman's thyroid by placing her hand over it and conducting an affirmation prayer, she recounted. Meredith offered an example of the type of prayer a person could use for healing: "I release this energy from my body. I release fear. I release, release, release. I'm accepting the magnificent in my body. I am healed. I am protected. I am in the 5th Dimension." During the last hour, she gave health-related readings for callers.
News segment guests: Howard Bloom, Mish Shedlock