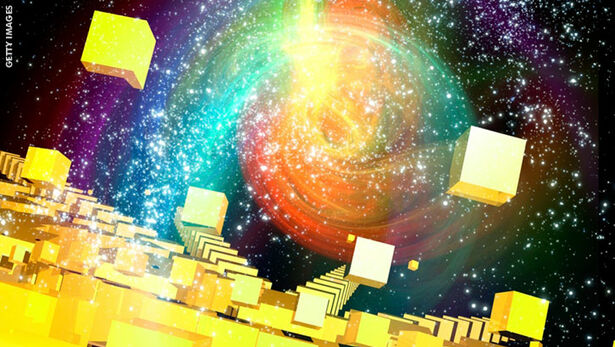 Joining George Knapp, Dr. Ruth Kastner, winner of two National Science Foundation awards for her study of interpretational issues in quantum theory, offered her insights into various quantum riddles, and presented different ways to view and interpret our reality. Classical physics was based on a mechanistic model, in which things could be taken apart and understood like a clock, with precise laws that described their workings. However, when it came to understanding things on the micro scale, such as the atom, the mechanical model did not hold up, and quantum physics was developed as a way to fathom the behavior of tiny particles, she explained.
Quantum physics suggests that our space-time world (all physical reality) could be thought of like the tip of an iceberg, but there's also a huge submerged portion of the iceberg that remains hidden, yet is necessary for space-time formation, Kastner outlined. In a sense, we're only experiencing a projection of this larger reality, she continued. Regarding the many worlds hypothesis (where all possible versions of alternate pasts and futures are real), she said that quantum mechanics points to these alternate versions as unmanifest possibilities that can only be indirectly inferred.
Discussing higher dimensions (the hidden portion of the iceberg), she suggested that they're populated by quantum systems, which wouldn't really correspond to beings or spirits, "but there is room in this interpretation for the idea that the mind could live in some sense in this realm." Addressing the topic of free will, Kastner believes that events are brought about from the quantum realm, and in that process, we're actually creating space-time, and an evolving future that doesn't have to exist yet, which means there's no fate or preordained events in our lives.
Project Blue Book Files Recovered
First hour guest, Rob Mercer of the Miami Valley UFO Society told how he came across a man on Craigslist selling a box of Project Blue Book files (view images) he'd bought at auction. Mercer tracked down the original owner, a former officer assigned to Project Blue Book at Wright-Patterson, who didn't realize that he'd left the files behind when he moved, and was able to give Mercer additional materials he had stored. A lot of the Blue Book files were put together for the press, and accordingly there were no redacted pages in what they were shown, the retired officer explained. One of the items Mercer received was a grainy UFO film recorded in Tremonton, Utah in 1952.
Website(s):
Book(s):
Related Articles
Bumper Music:
Bumper music from Sunday June 21, 2015