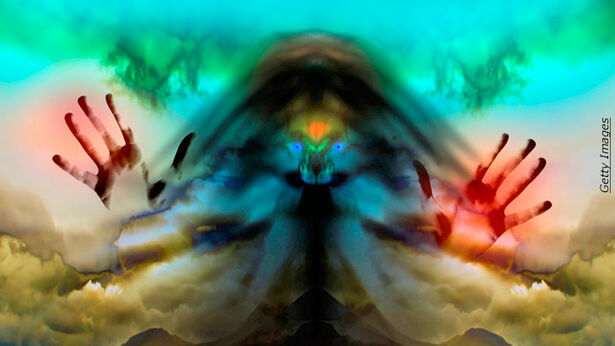 In the first half, energy healer and intuitive Dave the Mystic (David Barnett) joined Connie Willis (info) to discuss energy and entity clearing, as well as his claims of the various demonic entities emerging recently. His involvement with the paranormal began when a friend shared his own remarkable feats in mind control. The experience put him on "a path of learning about energy healing, going through psychic development, learning to channel ascended masters," and other abilities, he noted.
Barnett recalled his gift of clearing energies and entities as coming around 2007. He said his work in this realm has led him to understand life on Earth nowadays as a "spiritual bootcamp" where dark entities, operating on a separate vibrational plane, continuously test humanity's moral and spiritual strength. He also issued a warning: since about 2012, he explained, he's observed a "big energetic shift" toward darkness and negative energy.
Bennett described his intuitive process for clearing this negative energy, which he does remotely. Often, he claimed, agents of positive energy—the Archangel Michael, for example—assist him by shielding him with spiritual armor as he works.
*********************
In the latter half, Dale Clark, Director of Tours at the haunted Waverly Hills Sanatorium in Kentucky, shared information on the hauntings, as well as interesting findings from the full-time scientific research going on there. Opening in 1926, the Sanatorium housed patients until 1961. After changing hands several times, the property was obtained by Waverly Hills Historical Society, which formed to save the 187,000-square-foot building from demolition and preserve it as a site for education and investigation of the hauntings reported. As planned restorations move forward, tours and investigations will continue year-round, Clark indicated.
Among the phenomena visitors have encountered, he said, are ghostly images of the building's "permanent residents" in photos taken on the property. Using spirit boxes, investigators are also able to seek out evidence of unusual activity in different parts of the Sanatorium. The most famous room is number 502, which has been the subject of some controversy. Local legend is that a nurse at the facility hanged herself outside the room, making it the center of a lot of psychic and paranormal energy, Clark explained.
Book(s):
Bumper Music:
Bumper music from Saturday October 2, 2021