Ken Johnston, who worked for NASA's Lunar Receiving Laboratory during the Apollo missions, says he was fired for telling the truth. He joined George Knapp to share his contention that NASA knows there is evidence for both modern and ancient artifacts on the moon, as well as an active base there. He explained that in his position as Photo Control Dept. manager, he had access to highly detailed film and negatives taken during the Apollo missions. In viewing 16mm film shot by Apollo 14, they saw a shadow cast in the bottom of a crater, "and as we approached it, in the dark area there were like five domes lit from the inside, and a little plume that looked like steam streaking up above it," Johnston said.
There are also Apollo pictures that show perfectly round holes, which he's concluded are vents rather than craters because they don't have ridges. Photos taken during the Apollo 15 mission show beams stretching across the surface that expose some of the lunar substructure, Johnston noted, adding that during seismic experiments the moon would ring like a bell, possibly indicating it was hollow. One of the more striking anomalous photos was taken by a Russian lunar orbiter which showed a fractured dome on the moon's surface, he commented. Another image (see below) taken by the Lunik 13 Russian craft, looks like a drilling device and definitely appears artificial, he continued.
Johnston also talked about some of his early UFO contact experiences, where he was told he would become an ambassador between humans and ETs. He believes there is a group of ETs called the Watchers that keep tabs on humanity. Interestingly, he learned that Apollo astronauts were warned off by beings at one of the craters, and told not to return to the moon, and subsequently NASA scrapped the rest of its planned Apollo missions.
Images of two lunar anomalies discussed on the show-- Lunik 13 artifact on the top, 'Blue Ship' below.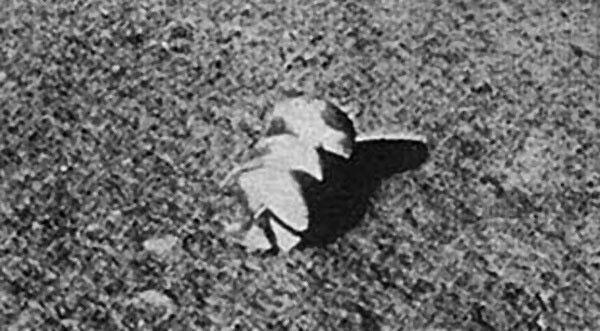 -------------------------------------------------