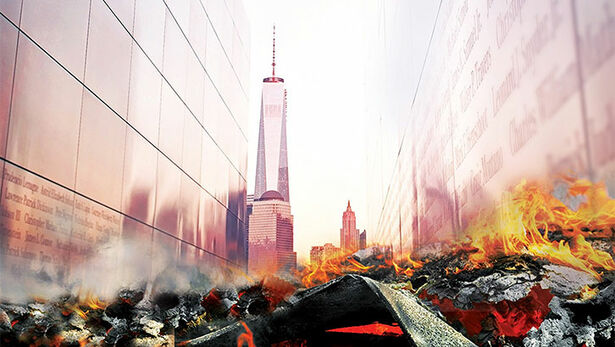 Filling in for George Noory, Dave Schrader (email) welcomed co-authors Frank Marra and Maria Bellia Abbate for a discussion on From Landfill to Hallowed Ground: The Largest Crime Scene in America. Their book details Marra's experiences at the Staten Island landfill, where debris from the World Trade Center site was taken after the September 11 attacks. Regarding the book's title, Marra explained that among the 1.6 million tons of debris where the ashes and DNA from more than 1200 people and their unidentified remains turned a once common landfill into hallowed ground. The two discussed 9/11 and its aftermath, as well as Marra's sighting of a ghostly lady at the landfill.
Marra, who was an NYPD police sergeant during the tragic events, recounted how he felt when he arrived at Ground Zero. "The best part of New York City was lying on its side," he said. "Everybody always talks about the day... but nobody talks about all that went into making our city somewhat normal again those days and months after," Abbate added. Marra commented on the incredible efforts of all the first responders and how many of them now endure sicknesses caused by toxic air from the World Trade Center destruction. Work at the landfill was difficult with only rakes and shovels—if you came across a body part it was placed in a bucket and taken to a temporary crime scene tent, he recalled. "I can't believe what these men did on a day-to-day," Abbate said, noting that some who worked at the landfill suffer with post-traumatic stress disorder.
Marra described his encounter at the landfill with a ghostly lady who appears as an African American Red Cross aid worker serving sandwiches or coffee. "I see this woman, I see her walking with the tray dressed in an old fashioned nurses uniform... I go close my car door and I happen to look back and she was gone," he remembered. Several other crime scene investigators who worked at the landfill have also reported seeing the same apparition, as well as black shadows in the vicinity of the parked workers' cars, Marra noted. According to a psychic medium with whom Marra spoke, the ghost nurse might have been a soul collector who was guiding departed spirits to the afterlife. "I believe what we saw was something spiritual," he said.
The final 90 minutes of the program was devoted to Open Lines.
Website(s):
Bumper Music:
Bumper music from Friday April 10, 2015