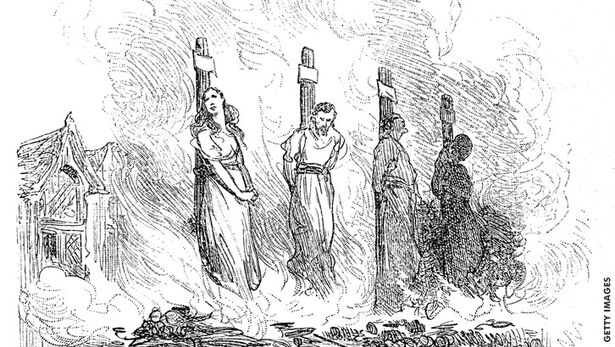 Tony Fels, professor emeritus of history at the University of San Francisco, joined Ian Punnett to discuss his book, Switching Sides, which traces a shift in scholarly interpretations of the Salem witch hunt from World War II to the present. Fels defined what witchcraft signified to those in 17th century America. "A witch simply meant a person who was thought to practice through supernatural means a way to inflict harm on others," he explained. Common charges against so-called witches included causing children to get sick and die, and crop-related failures such as cows not giving milk, he added.
It was completely plausible for Puritans of the time to believe witches were real, Fels continued, noting belief in witchcraft was nearly universal. "If you believe in a world of spirits, and demons in particular, it's not a big leap to think that there could be a person or group of people who develop a practice where they can call upon these demons to hurt somebody else," he suggested. In an interesting side note, Fels pointed out over 40 people confessed to witchcraft at Salem which added credibility to the charges. It is, however, significant to note there is no evidence there was any organized practice of using supernatural means to hurt people, he disclosed.
According to Fels, Arthur Miller's play The Crucible has defined the popular understanding of the Salem witch hunt. Academic historians, on the other hand, have moved away from that version, he lamented. In his book, Fels analyzes several leading works on Salem by modern academics which encourage readers to sympathize with the perpetrators of the witch hunt instead of those who were accused of witchcraft. "One way or another they end up sympathizing with the accusers rather than the accused," he revealed.
American Heroes
First hour guest, retired police lieutenant Randy Sutton talked about law enforcement and his book, The Power of Legacy, about American heroes who inspire. "There were people who have done extraordinary things in their life and I wanted to talk to them about who their personal heroes were in order to... encourage all people to want to be personal heroes," he said. The book profiles unknown heroes as well as more noteworthy personalities, including Gary Sinise and his advocacy foundation for America's service members, and Frank Shankwitz, founder of Make-A-Wish. Sutton also commented on how the use of police body cameras and dash cams have protected officers against false complaints.
Website(s):
Book(s):
Bumper Music:
Bumper music from Saturday July 21, 2018